History

In the mid 90's Jemmac co-founder James Weedon decided to combine technical learning with his passion for Formula 1 by running an intranet based Fantasy Formula 1 league for around 20-30 work colleagues.
That first system was written in HTML using client side Javascript to render the results of the races. Race results were entered into Excel which then auto generated vast amounts of Javascript arrays – a simple but rather laborious approach!
Technology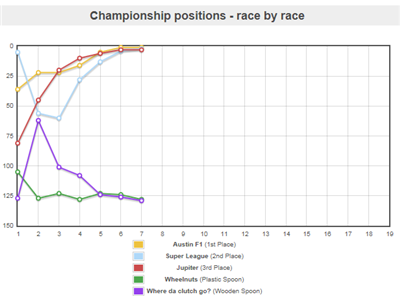 Almost 20 years later and the league has expanded to become a full Internet site hosted under the jemmac.com domain, with entrants from all around the world. The site continues to be a training ground for new technology with the latest incarnation adding PHP, AJAX, JQuery into the mix.
As is the way with most systems that evolve, some of the original Javascript arrays continue to survive, but being generated by PHP and AJAX rather than Excel!
They are supplemented by a MySQL database which holds not only details of the teams, race results and latest championship positions, but accounting information to support an entry that is now in excess of 120 teams.
Along the way the site has grown to include some natty graphics using FLOT – a simple yet powerful PHP graphing object.
Community
The league is composed from an eclectic network of friends, family and work colleagues. One very real benefit of the league is that it keeps communication channels drawing from all areas of life. For example, the league features the authors old Head of House head from Secondary School, family members, ex work colleagues, friends, friends of friends and many more.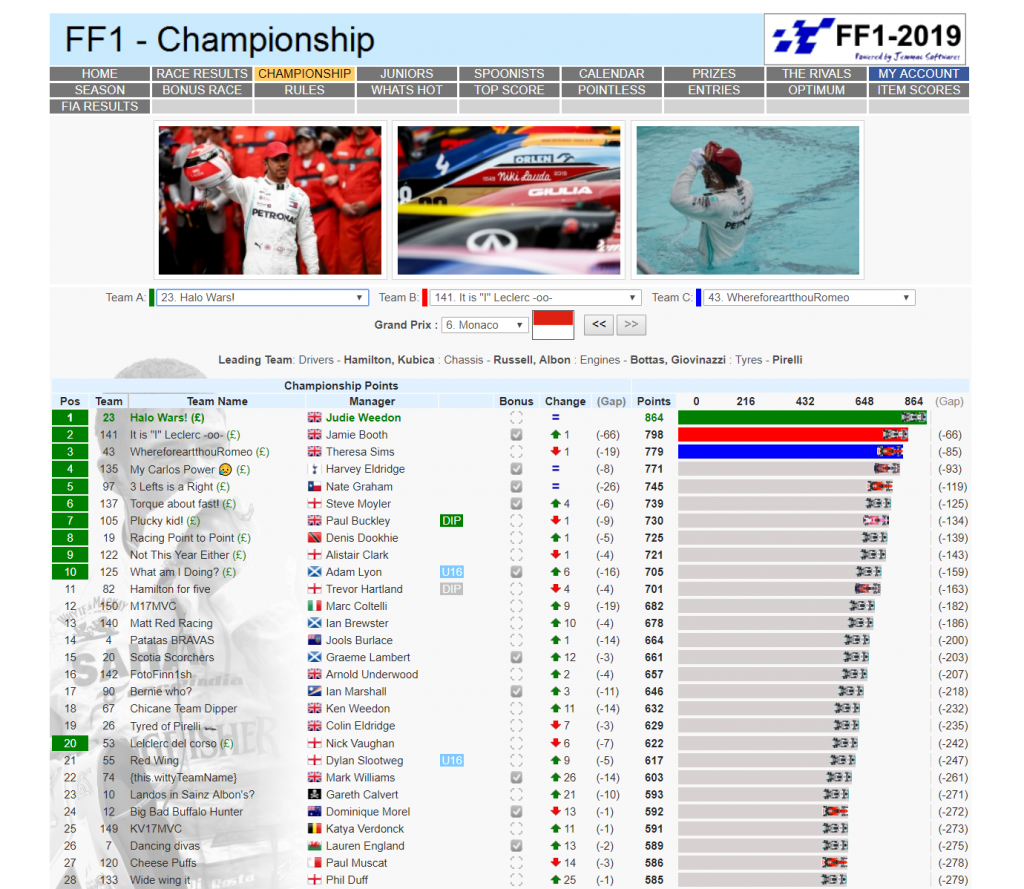 It is contested – very successfully- by several juniors and several of life's more experienced members – i.e. those who now get a free bus pass!
The use of national flags illustrates the huge mix of people currently participating with entrants from as far afield as Australia and the U.S.A and pretty much everywhere in between.
Willen Hospice
In recent years, winners from each season have had the option to donate some or all of their winnings to Willen Hospice, a charity in Milton Keynes that provides palliative care and support for families. Donations are matched by league sponsors Jemmac Software with a combined donation now well in excess of £1000.
The suggestion to donate came from one of the leagues longest serving overseas entrants who had first hand experience of the good work done by such organistations – a great example of leagues global reach combined with its links into the local community in Milton Keynes.
Key to success
One of the keys to the success of the league is it's simple seleciton process and the fact that there is no in season management. It also has a great levelling effect as it seems the more people actually know about F1, the worse they do! With the majority of entrants being casual F1 fans, this laid back approach appears to hit the mark as indicated by entries which have grown year on year since the leagues inception.
Want to participate?
In order to join the league participants need to be referred by an existing entrant. This keeps the league as a close knit community of like minded individuals and provides a natural level of moderation as befitting a fun league.
Should you want to participate, email the league author and request to be put on the reminder list for next season. Remember though, an existing entrant needs to be willing to vouch for you!
For more information, contact:James Weedon
Jemmac Software Limited.
Tel : 01234 757252
Email : james.weedon@jemmac.com