Jemmac Non-Executive Chairman Dr Graeme Philp has recently been appointed as Chief Executive of Gambica.
Gambica is a UK-based organisation which represents the instrumentation, control, automation and laboratory technology industry. Dr Philp takes over from Geoff Young, who led the organisation for 25 years and who is retiring.
Announcing the appointment, GAMBICA's President, John Bailey, said:
"I am delighted to secured Graeme as the new Chief Executive of GAMBICA. Together we will build on the excellent organisation that Geoff developed and strive to increase still further, its value and relevance to members in our fast-changing business environment."
"I would like to take this opportunity to thank Geoff Young for his excellent leadership of the organisation over the last quarter of a century".
Dr Philp added:
"I am excited at the prospect of leading an organisation like GAMBICA with such a proud history of representing our industry. I have enjoyed a challenging and rewarding career in instrumentation and automation for the last 33 years and I relish this opportunity to put something back into the industry by representing it in the UK and Europe to the best of my ability".
About Gambica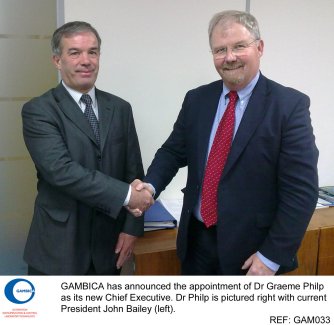 GAMBICA is the national organisation representing the interests of companies in the instrumentation, control, automation and laboratory technology industry in the UK. The diverse nature of the industry is reflected in the five industry sectors represented by the Association:
Industrial automation products and systems
Process measurement and control equipment and systems
Environmental analysis and monitoring equipment
Test and measurement equipment for electrical and electronics industries
For more information, contact:
Graeme Philp
Jemmac Software Limited.
Tel : 01234 757253
Email : graeme.philp@jemmac.com
Gambica : www.gambica.org.uk