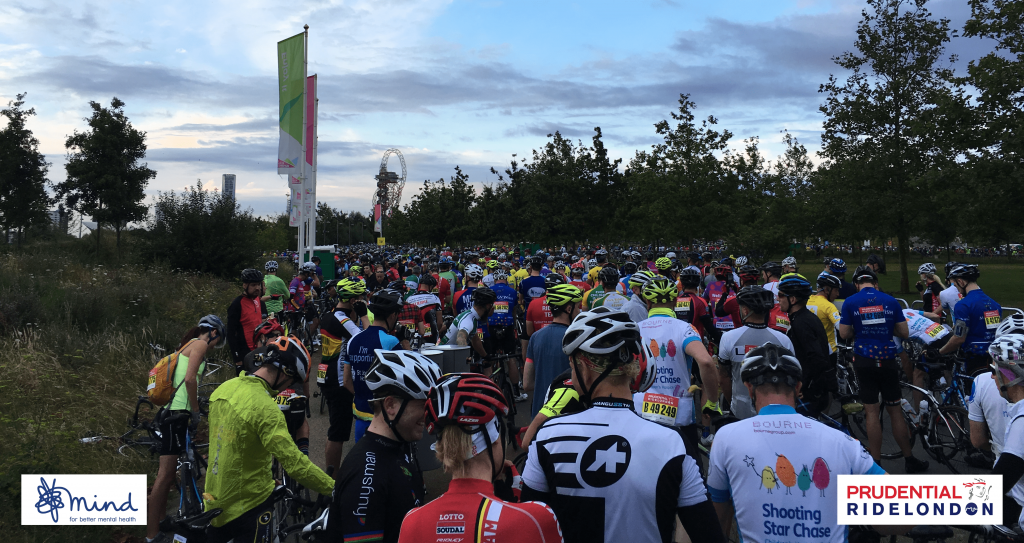 Jemmac Senior Consultant James Slootweg took part in this year's "Ride London" Sportive, raising money for the charity Mind.
Mind is a charity which provide advice and support people effected by mental health issue. They also campaign to improve mental health services, and raise awareness and promote understanding of mental health issues.
Having missed out on a place via the public ballot Jemmac were delighted to help secure James a place by paying his entry fee and also providing the required level of sponsorship for his cause. The plan had been for Jemmac Director Matthew Underwood to also take part, but changing work plans meant he was in the USA and would have to miss the event.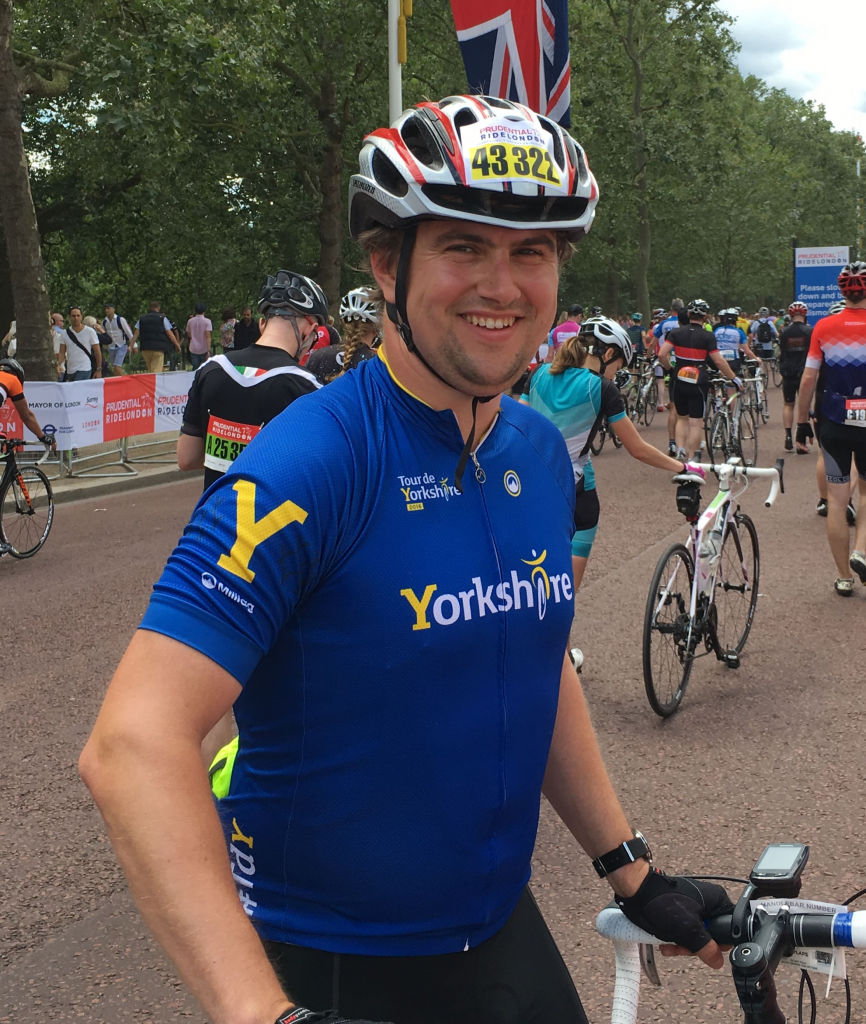 The following is James's account of his day.
My Ride London Experience
With a start time of 06:40 and latest arrival at the start expected to be around 6 AM it was always going to be a very early start. When my alarm went off around 3 AM I was glad to get up. My fear of oversleeping had kept me awake most of the night. Waking every 30 minutes or so to check the time.
Armed with a slice of toast and nice espresso I ventured out to the garage to load up my bike and assorted gear for the 2016 Prudential Ride London. A 104 miles blast around a closed road circuit which takes you through the sights of London, out into the pleasant Surrey countryside and then back into the city for a proper sprint to the line on The Mall.
Once the car was loaded up I dialled in the location of my selected car park. This year I would be parking the car at Lee Valley Ice Centre, a good location for the start as it was only a 10 minute ride to the start. Which means more time in bed. The disadvantage being an 11-odd mile cycle from the finish, back to the car, running the gauntlet which is cycling across central London in afternoon traffic.
After a fairly uneventful drive I arrived in London and quickly got my bike off the car and got to the start. Somehow I hadn't left enough time for myself and was rather rushed in getting to the start. But I got to my starting pen with about 5 minutes to spare. Phew!
Before long it was time to go, turns out I was starting with a couple of sporting personalities. England's 2003 world cup winning captain Martin Johnson and Ex-Red Bull racing driver Mark Webber. Neither of whom I actually saw mind you! But the guy announcing the starts of each wave declared their presence which was good enough for me.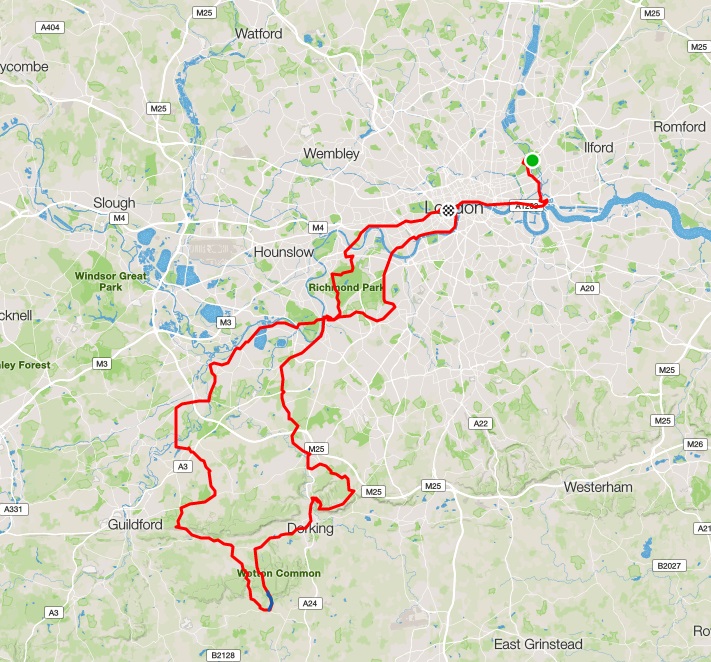 Once the ride was underway I was feeling fairly smug about my decision to wear arm warmers this year. Despite it being the height of summer it was remarkably cold. The first 20 miles the ride across London was great. Going the wrong way around the roundabouts, the wrong side of the road through Knightsbridge and screaming past Harrods (Editor: hopefully not the audible variety?). Things you can't normally do. This is the only event that gives you the privilege. It's great.
Not long after this point I was starting to regret my rush earlier in the day. That espresso was starting to make its way through me and being the middle of London with lots of people out cheering didn't lend itself well to finding a good spot to relive oneself. This became my thoughts for probably 8-10 miles. Eventually I found a petrol station which had a suitable stopping place. Feeling much better I was able to concentrate on my ride.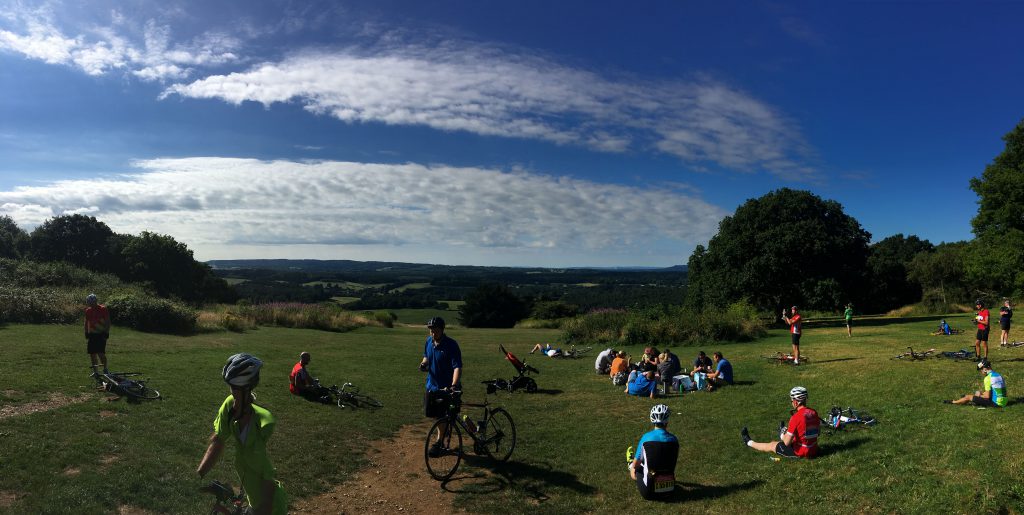 Sir Issac Newton supposedly coined the phrase "What goes up must come down", he also said "I can calculate the motion of heavenly bodies, but not the madness of people". Both seemed very apt for the descent that was coming. At over a mile long and an average of -4% the windy road down was somewhat technical, not a problem considering the road was closed so we could use both sides of the road properly though. After a dose of speed from the descent my main aim was to keep enough 'in the tank' so I didn't suffer too much on Leith Hill and Box Hill.
The first proper stop was at Hampton Court, just a quick stop to grab a bottle fill up and a couple of bananas. The first real test was the climb to the rest stop just before half way, coming in around 46 miles finishing around 1.5 miles later. This was a nice little tester with an averaging gradient of around 5% some small sections around 11%. Riding up when there are people getting off walking is always a good feeling. Reaching the top brings you to a big feed station, another chance for bottle top ups and this time my snack of choice was a flap jack handed out by some local Air Training Corps cadets. The view from the top of this peak was pretty nice.
Leith Hill is a fairly sneaky one. With all the bustle of the ride it caught me out when it came. About half way up it really levels off, but because you are in amongst the trees the second ramp is a bit of a shocker as the hill goes up again. The descents around this part are some of the scariest. They are very fast and very windy. As a result they were dropped on the Ride London 2014 event as they were deemed far too dangerous in the torrential rain that played out that day. On a couple of descents I passed some pretty nasty crashes, testament to the high speed and technical cornering on them.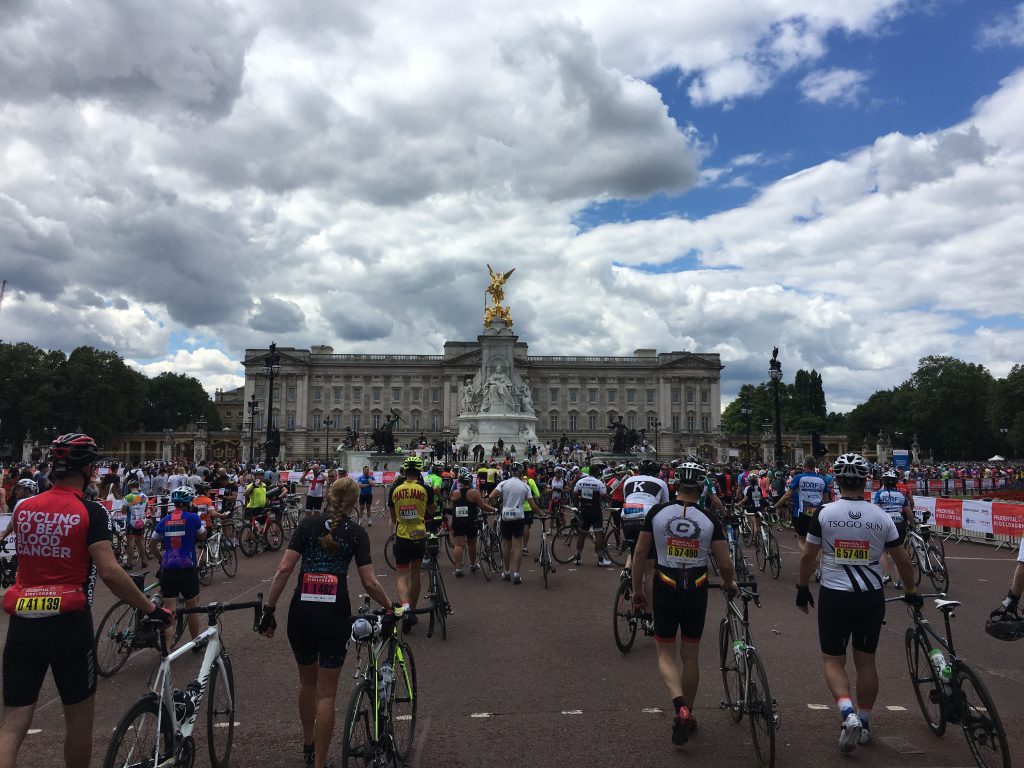 Once Box Hill was done I was thinking about the run into home. Wondering if I was going to finish the course in the 5 hours 30 minutes I had set myself. With relatively few hills remaining I put my head down and tried to maintain a nice steady cadence, in the hope I could keep my average pace up. Before long I was passing through Fulham and I knew I was nearly home.
As the Houses of Parliament came into view, with less than 2 mile to go I upped the pace once again. Whitehall seems like a blur to me now, passing the Cenotaph and taking the tight left hander passing through the Admiralty Arch onto The Mall. Once on to the red tarmac road I got myself into a full sprint. As I crossed the line looking at my Garmin, the time ticked over to 5 hours 29 minutes and 21 seconds. Job done!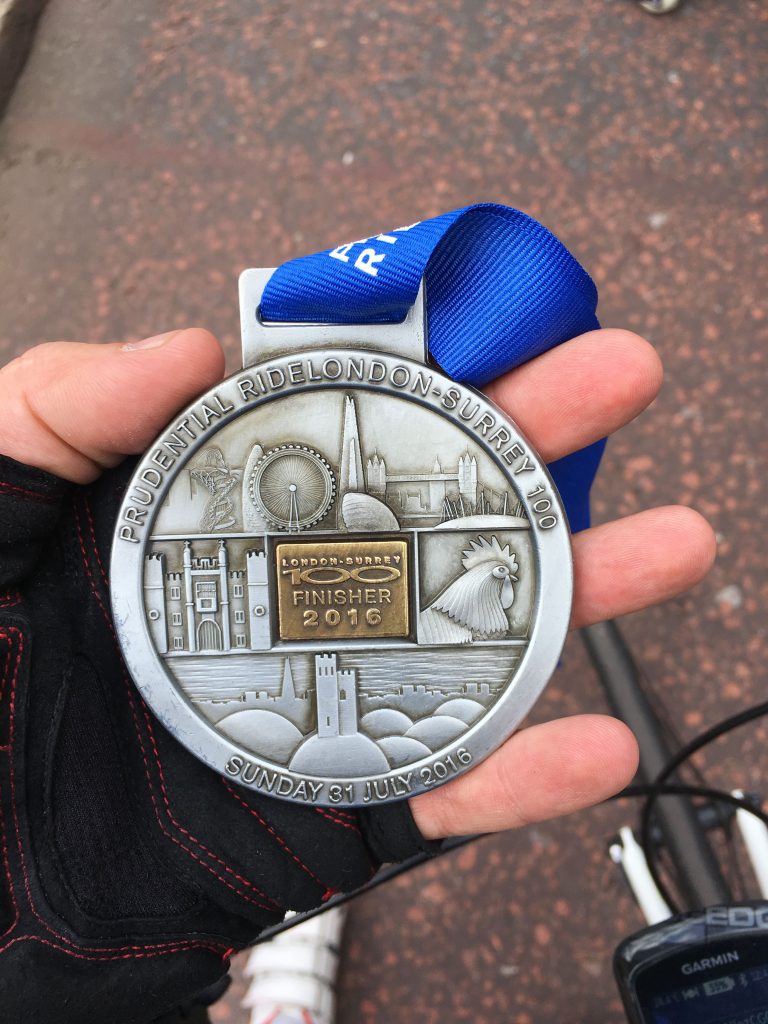 If only it was, having received my medal, drunk a bottle of water it was time to head back to the car. I dreaded this part of the day. After 104 miles of clear empty roads, heading on the London roads in full afternoon traffic was not my idea of fun. But surprisingly about 40 minutes later I was arriving back at the car, loading the bike back up and heading home.
A big thanks to Jemmac for securing me a place and for sponsoring me. Here's hoping project schedules allow Matt to join me next year, perhaps along with James W now that he has found his 'road-cycling legs'.

James S