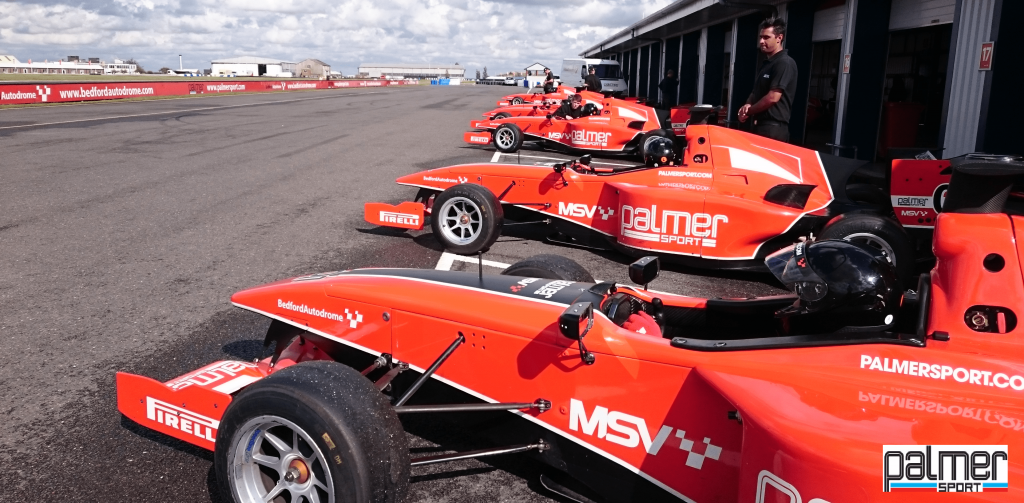 Go. Go! Up a gear! Faster! BRAKE! GO!
Over the course of our day at PalmerSport this is something that we would get used to, our instructors pushing to go fast, go faster than we thought we could drive and then faster still.
The day had begun much more sedately, with an introduction and briefing over breakfast. The lead instructors calm words and jokes hardly felt like preparation at all once the harnesses were pulled tight, strapping us into the first car we would be driving, the Ariel Atom.
Little more than two seats fixed on top of a 245 BHP engine capable of hitting 60 mph in 3.2 seconds and a top speed of 145, those of us who were hoping for a gentle introduction to our driving experience day were very quickly disuaded of that notion. The Atom gave the Jemmac team the first taste of glory with James S placing first within our group and James W not far behind (see below).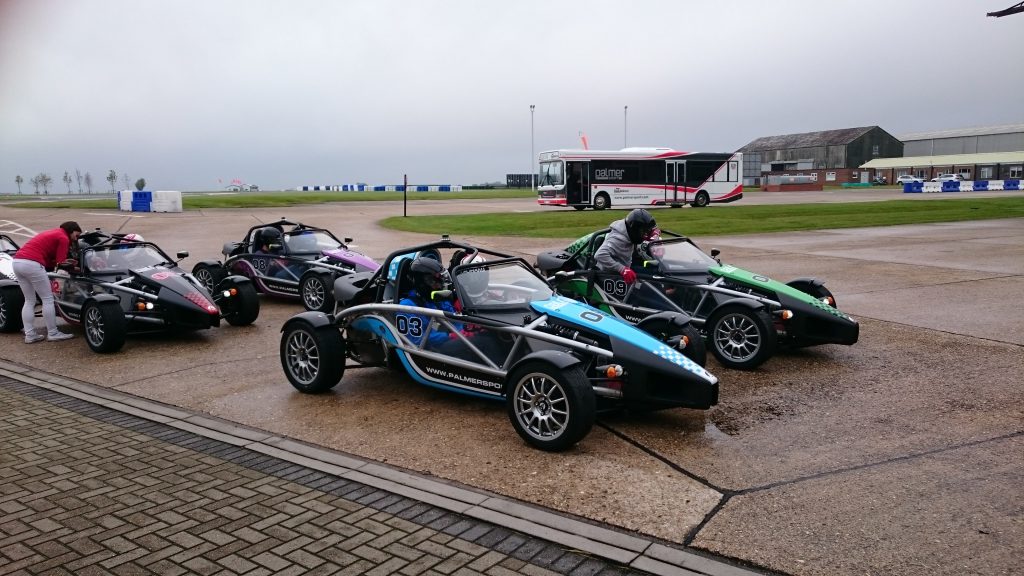 Next up, the so-called "Bavarian Bruiser", the BMW M4 GTP. With a 425 BHP 3 litre Twin Turbo engine capable of 0-60 mph in 3.9 seconds, 100 mph in 8.8 seconds … and a massive top speed of 185mph, PalmerSport were not going to let us relax even for a moment. We were all able to get our laps in before the first rain of the day so we were (mostly) able to keep the back end in check.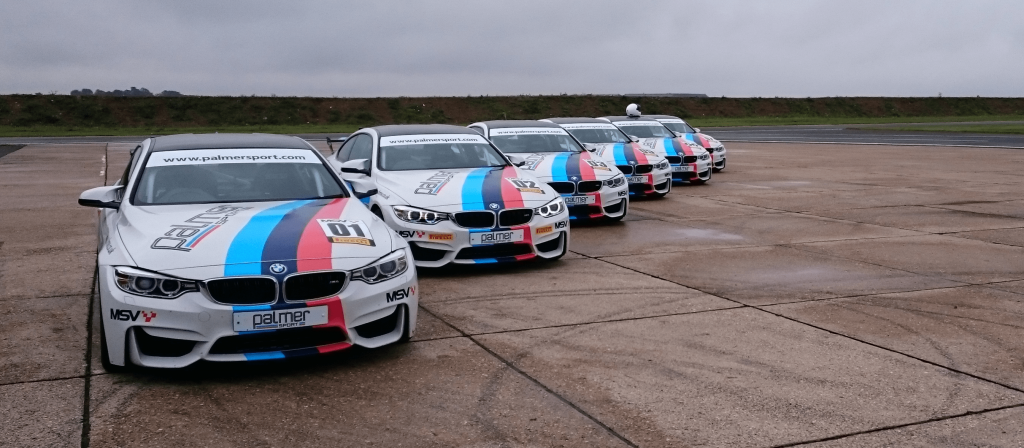 Last up before lunch was the Caterham 7 Superlight, the rain and the Caterham's 60 year old design with its lack of the modern driving conveniences led to our first and only (minor) incident of the day. James C locking his brakes and sliding straight through a corner and into the runoff area, thankfully the only thing hurt was a poor traffic cone, which I'm afraid may have to retire. James W, with some Caterham racing experience in the distant past was easily able to keep the beast in check, even in the wet!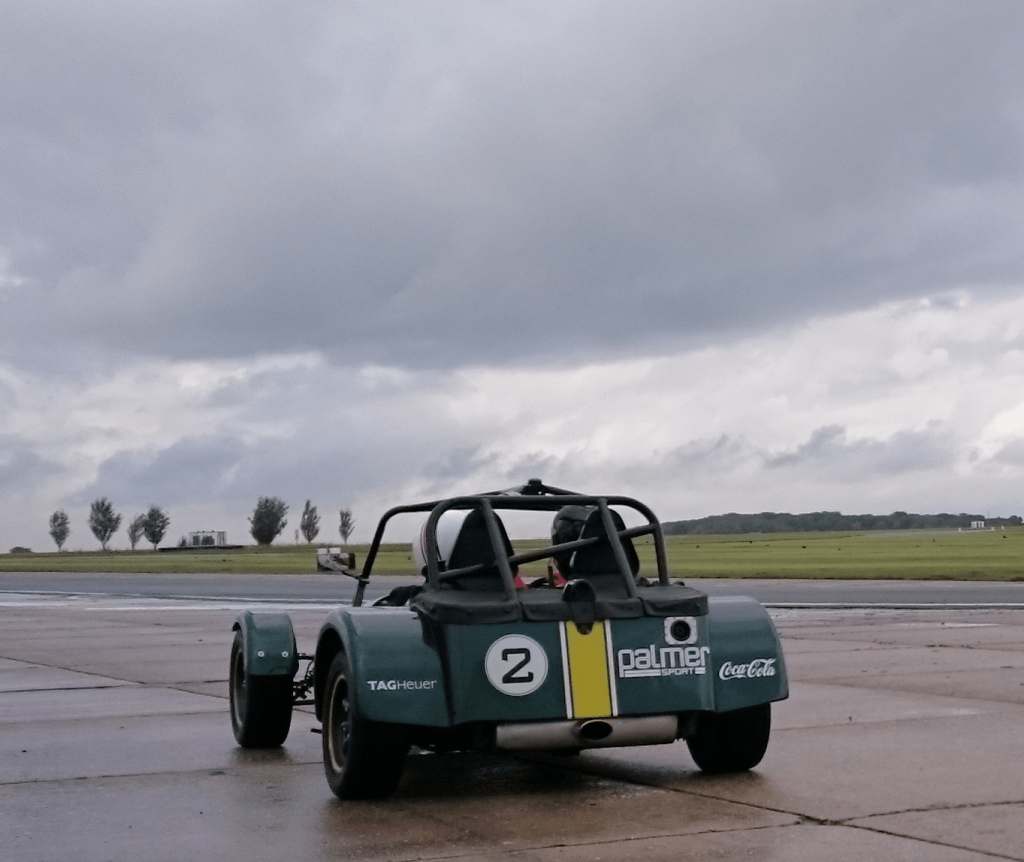 Lunch offered a welcome respite, a chance to sit down in a seat that we weren't strapped into. All of us were starting to feel the fatigue of keeping the cars under control and we weren't even halfway though yet!
On the menu was steak for the main course and lemon mousse for desert, delicious and light enough to not weigh heavy in our stomachs. Strangely they only served soft drinks.
Now it was the time for the car we were both most excited about and dreading in equal measure, the Formula 3000, described as "…the closest [we'd] get to experiencing a Formula 1 car." and if that wasn't intimidating enough, this would be the only car with only one seat. You might wonder where the instructor was sitting, the answer is nowhere. This time, we were on our own.
Fortunately we didn't really get a chance to notice, the sheer excitement and fun of driving the car meant the was no time to worry about anything else.
We were split up for our next activity, Ali and James C were back into some Caterhams for "Pistons At Dawn", the Caterham Pursuit. This was all about being quick off the line, powersliding through turns without losing control and then pulling a donut around the final roundabout before coming to a stop at the finish. Easier said than done and easier for some than for others, with Ali coming a very close to an event win, missing out on the top spot by less than a second.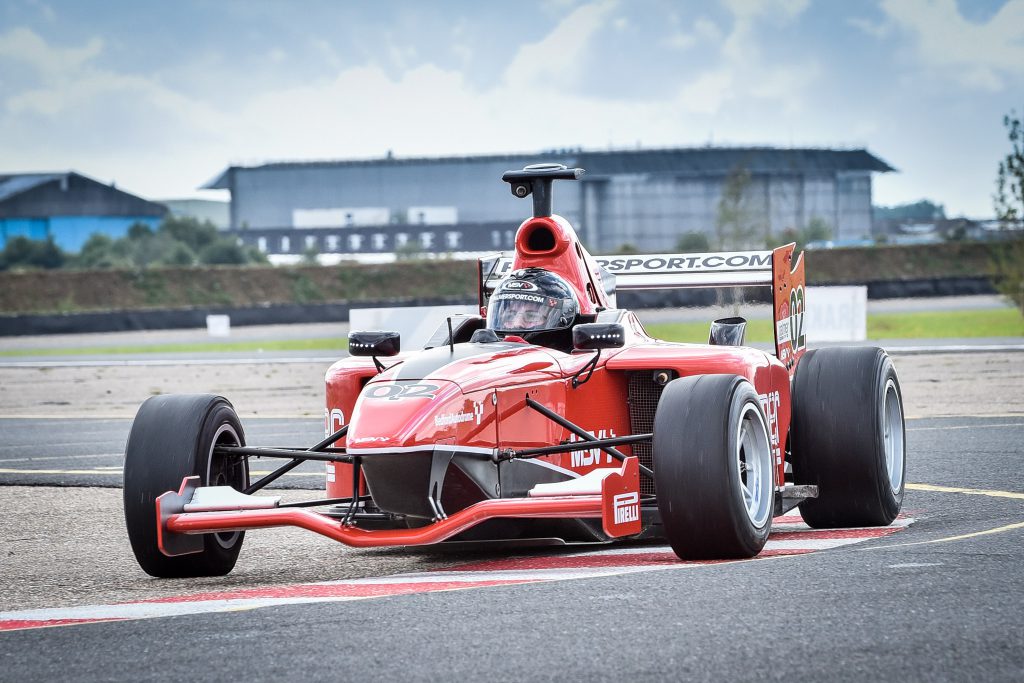 The others were enjoying a change of pace at this point taking on the off road course in a Land Rover Defender, something should have felt quite prepared for given our previous Land Rover experience team building day. However there were obstacles to tackle that we had never seen before, including the infamous see-saw, pivoting with the cars weight, dropping the Land Rover into some pretty deep water. Although the Land Rover event wasn't about speed, it still required the skill and concentration that we needed on the track.
The last super car were we going to be driving was the Le Mans style racer, the Jaguar JP-LM, offering similar performance and handling to the Formula 3000 and on the same track. However this time we had an instructor onboard, pushing us right to the limit. This showed in everyone's improved lap times, shaving off at least 10 seconds each, with Kevin in particular putting in a fantastic performance, massively improving on his times, and placing from earlier in the day.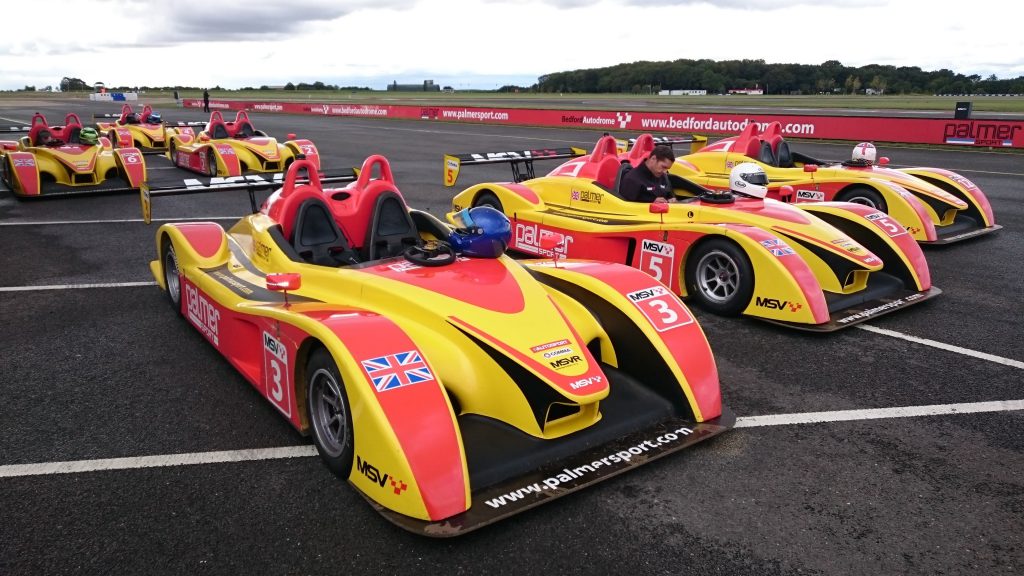 We were on the final straight now and the event was definitely a respite from the relentless power that we had been trying to tame throughout the day, regular Go Karts, we didn't even have to be strapped into them! That didn't mean we were going to take it easy though, the day of driving had left its mark, with everyone following the racing line, sliding round the corners, overtaking and of course, spinning out.
The day ended with a final debrief and awards ceremony. We were given a trace that compared our driving performance in the Formula 3000 with that of GP2 Champion Jolyon Palmer, funnily enough he is a far better driver than any of us. James W upheld Jemmac's honour, taking the prize for best driver in Team Raikkonen and 5th place overall.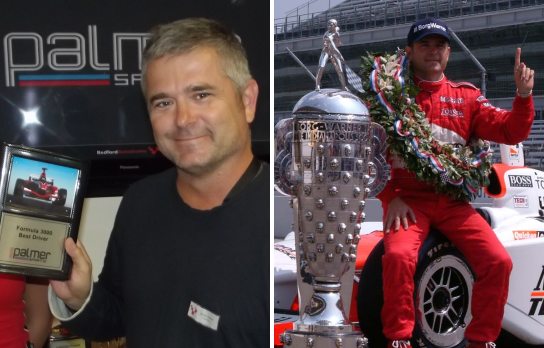 The competition for awards was really rather steep, because little did we know, but we had been competing against 2003 Indy 500 winner Gil De Ferran and Tin Top legend and BMW endurance supremo Steve Soper, both accomplished racing drivers and their guests who no doubt had some motor sport experience, taking most of the awards between them.
Bouyed by his excellent result on the Caterham Pursuit, Ali tweeted his result to both Soper and De Ferran with Soper marking it as a favourite on his Twitter account (See above)!
Overall, the activity day provided the motor sport enthusiasts and motor sport curious amongst us a chance to explore a shared interest in an unrivalled and spectacular fashion with some friendly competition both amongst ourselves and as Jemmac Team versus everyone else.
James C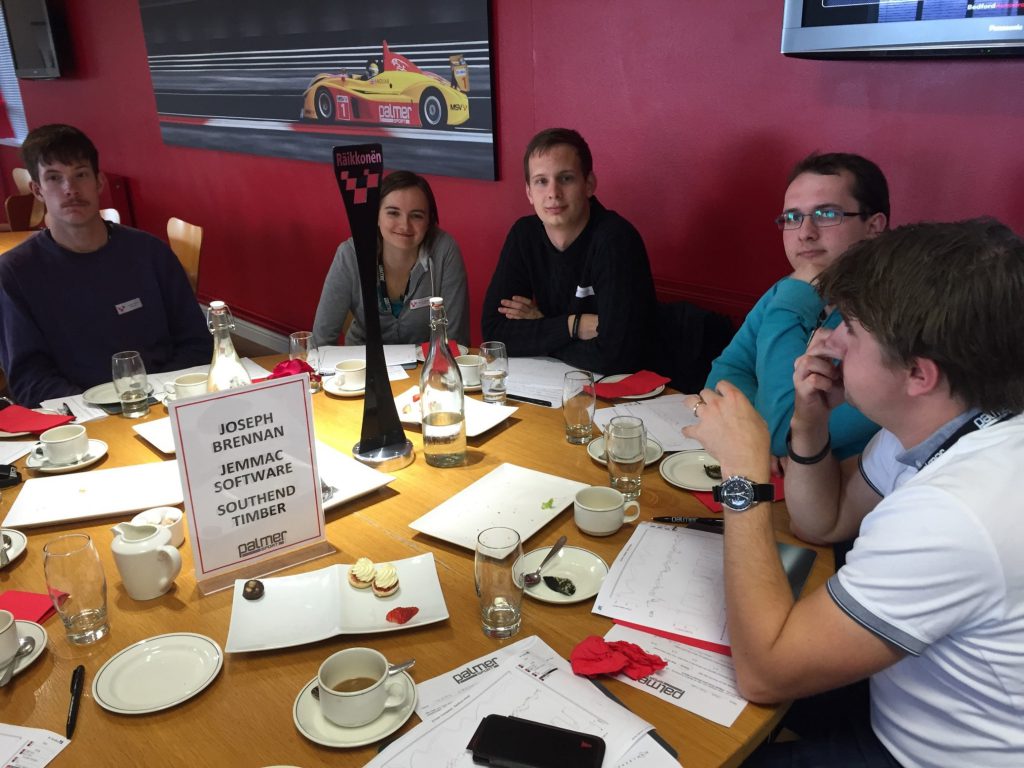 Quotes from the day:
Lauren : "It was a fantastic day with the team at PalmerSport and I only span out twice. The cars were amazing especially the Jaguar JP-LM!"
Kevin: "PalmerSport was a brilliant experience, I might not have been the fastest but I enjoyed driving the cars. The JP-LM in particular was fantastic!"
James S : "PalmerSport delivered again. An awesome day out with a bit of rain in the mix to keep things interesting!"
Ali : "PalmerSport was an absolutely incredible day! The Formula 3000 was my favourite car; I really did feel like an F1 driver (even if my lap times didn't quite reflect that…).Finishing just 0.12 seconds slower than Indy 500 winner Gil De Ferran in the Caterham Pursuit was pretty awesome too!"
James W : "PalmerSport events are always a challenge – especially when you come up against professional racing drivers! A great, but exhausting day out with some impressive performances from the Jemmac youngsters!"