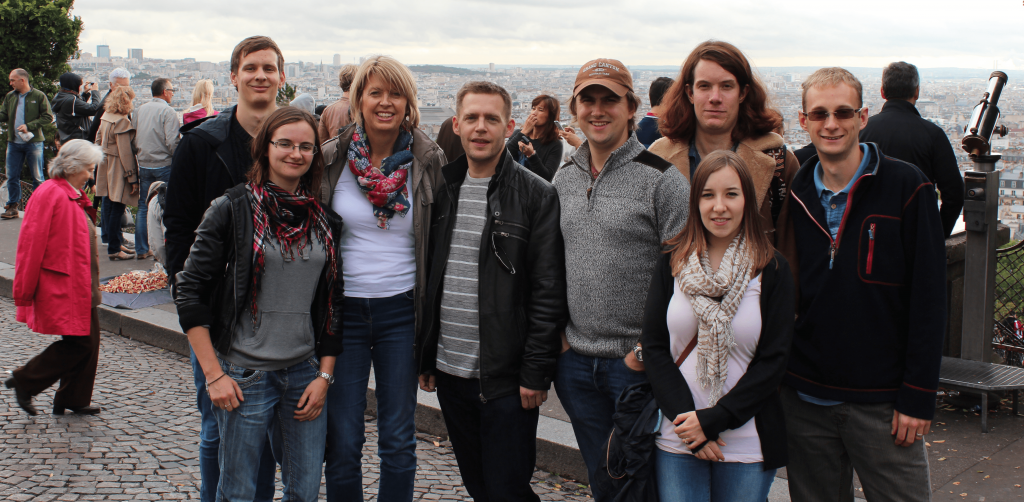 In addition to the Team Building days each year, Jemmac offers staff the opportunity to go on an Activity Day. With the suggestion of a day trip to Paris, it wasn't hard to find people willing to go.
So on Friday the 17th of October eight sleepy 'Jemmac-ers' converged at St Pancras International from their respective dwellings. The meeting time was 6:00 AM and much grumbling was heard, although Greg had managed to wake up a good hour or two after everyone else, he was still first to arrive! With everyone together, we headed through check-in to await our train.
Once on the train we were impressed by our roomy Standard Premier seats and not long after departure we were served our breakfast. This was nice little continental affiar, though there were a few complaints about some missing bacon, eggs and sausages… The journey was quite uneventful, with Katherine providing a bit of light entertainment when she asked "are we underwater yet?", which of course led to some banter about fish swimming outside the window and hoping the train was properly watertight!
Upon arrival in Paris we were greeted by some quite scary looking, heavily armed police officers. Needless to say we quickly left the station, and with the help of James C's phone we headed off towards our first destination on the itinerary; Sacré-Cœur de Montmatre. This went quite smoothly, though an odd detour was taken to make sure we approached Sacré-Cœur from the "right way". We stopped at the bottom of the hill to marvel at its beauty, and to prepare ourselves for the ascent!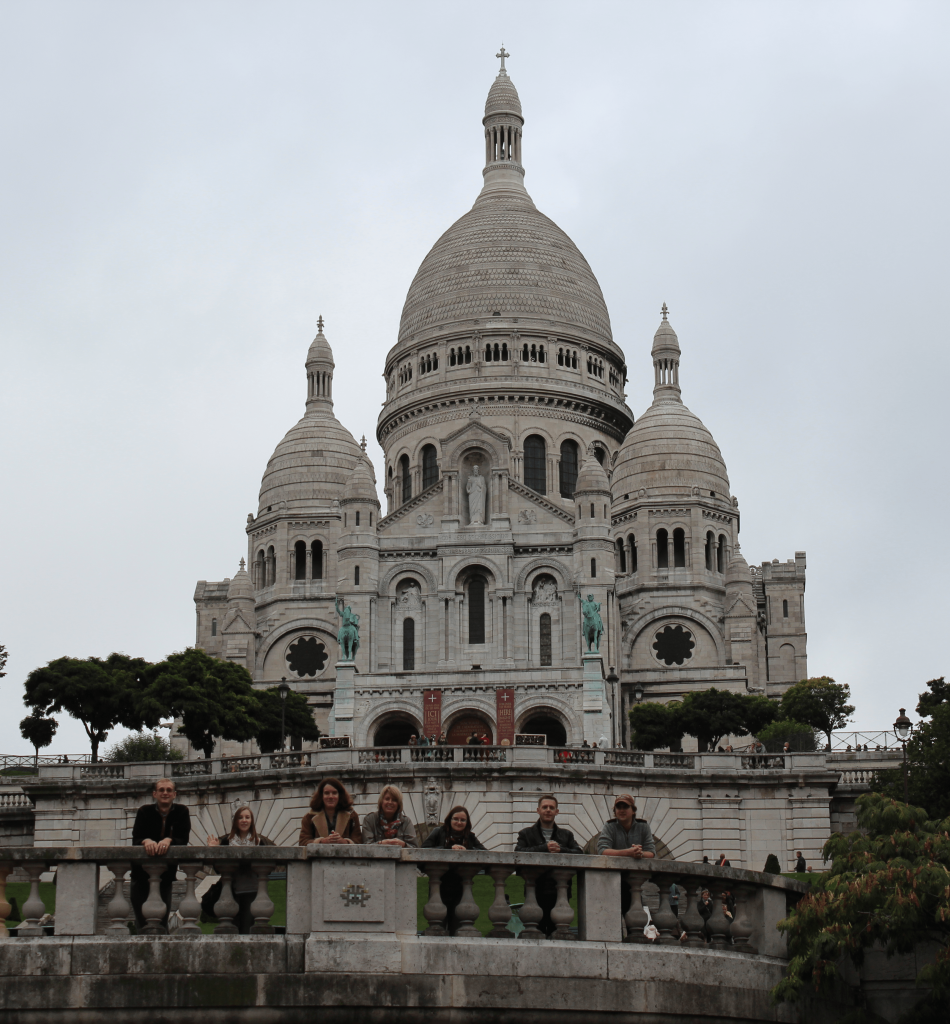 At the top of the hill we made our way into the church. The building was magnificent with some incredible stained glass windows and various holy carvings and inscriptions. The atmosphere in the church was one of hushed prayer, and we couldn't take any pictures as there were numerous signs politely requesting people not to, but the church was definitely well worth the visit!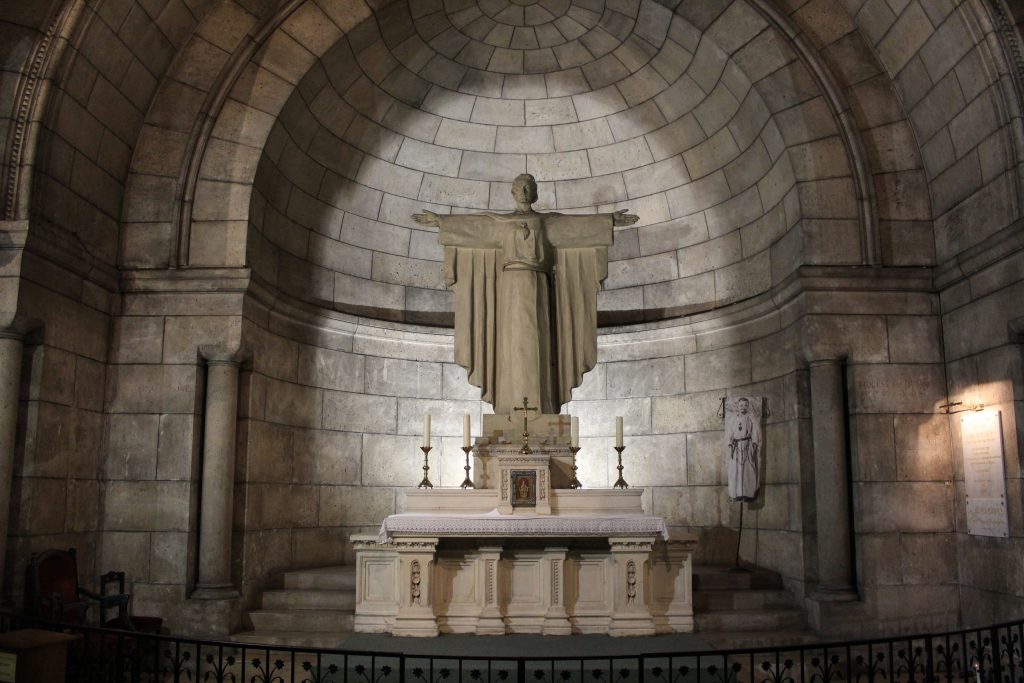 Once we'd seen the inside of Sacré-Cœur, we ventured round the side to find the entrance to the crypt and the dome. We agreed it would be best to visit the darkness of the crypt first, so we could come out into the light. The crypt was a little underwhelming, especially as Ali was expecting a dungeon filled with skeletons and all sorts of nasties.
Next was up to the dome, with the 300 steps seeming like quite a lot more! We arrived at the top slightly dizzy (from the spiral staircase) to an absolutely magnificent view of Paris.
Stretched out in front of us was a sprawling expanse of buildings, with the impressive Eiffel Tower off in the distance. We spent quite a while at the top of Sacré-Cœur just taking in the sights and breathing the fresh air. We even saw a nun doing some gardening in a compound near the church!
Eventually we made our way down, which turned out to be quite treacherous for our tired legs. Luckily there were no casualties, and at the bottom we had time for a group photo before heading off to find Montmatre cemetery.
Using James C's phone for directions we arrived at where we thought the cemetery was, but either our navigation skills were not up to par or the cemetery was marked incorrectly on the map and we couldn't find the cemetery. We did, however, find a picturesque windmill in the middle of the city.
Having given up on finding the cemetery we slowly made our way through the winding streets to our second destination on the itinerary; lunch at Sacré Fleur!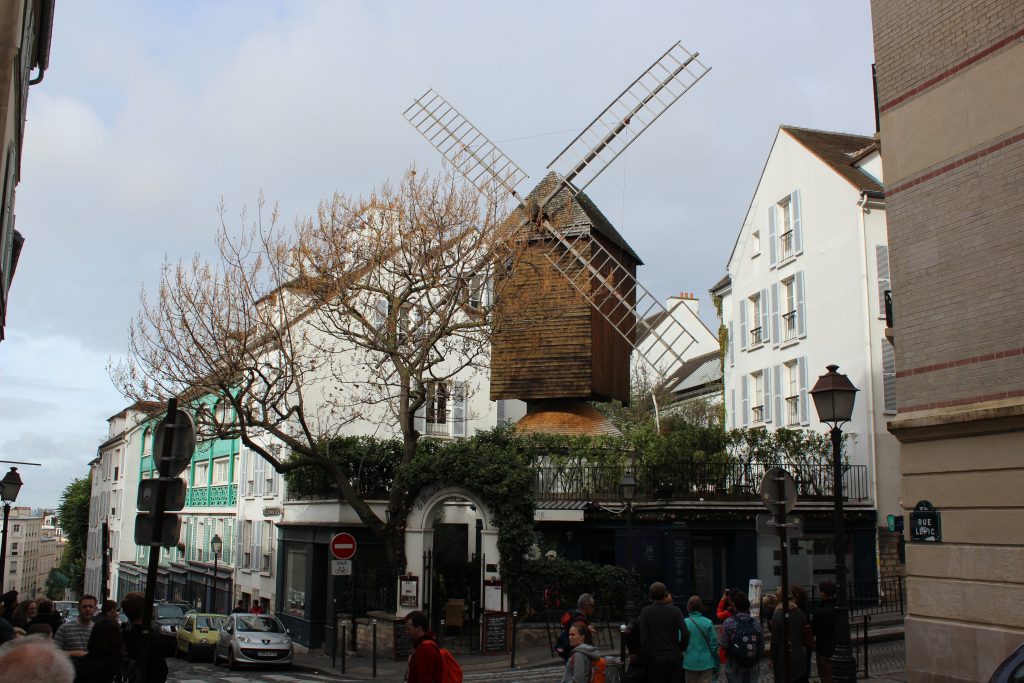 Arriving at the restaurant we were all absolutely starving from our climb up (and down) Sacré-Cœur, and it wasn't long before our traditional French starters arrived; snails, frogs legs, foie gras and onion soup. James S recommended a lovely bottle of red so we ordered two, though it was only after they arrived that Lauren mentioned she doesn't like red wine…
Everyone was impressed with their starters, and James C's was so nice he felt no remorse about the farming practices used to produce his starter. The main course followed (as you'd imagine), with people opting for either steak or duck confit, both of which received excellent reviews! With our glasses nearly empty we ordered another two bottles; James has good taste in wine!
For dessert there were five orders of tarte tatin with Calvados, and one of orange crépes with Grand Marnier. After being soaked with alcohol the puddings were set alight, and soon after we tucked in to our delicious desserts. In traditional French style lunch was a relaxed affair that took almost three hours!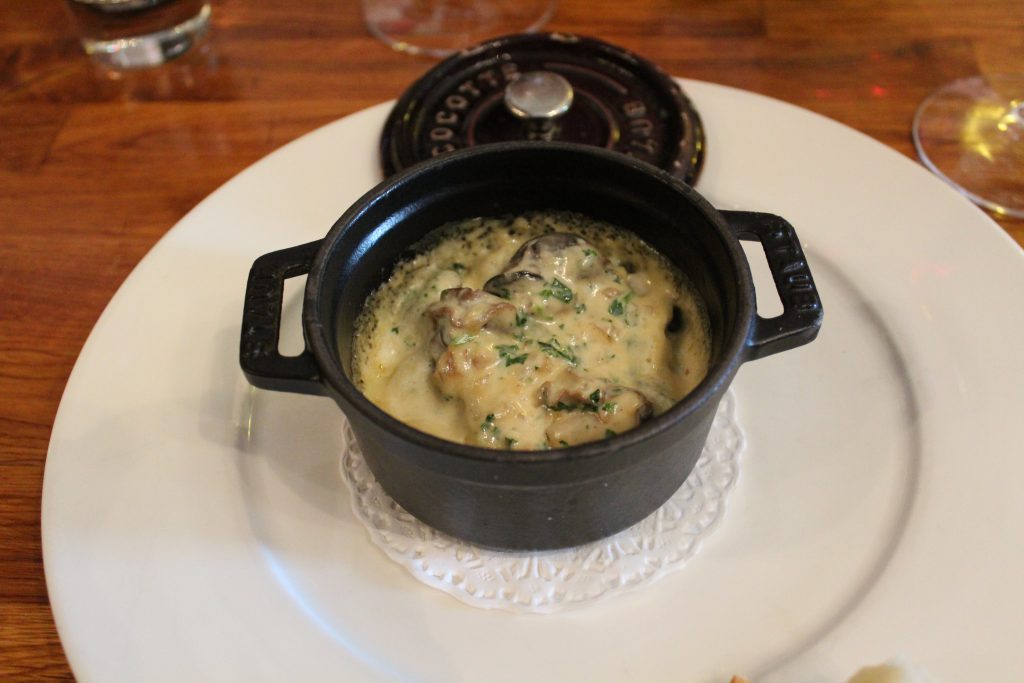 With our appetites thoroughly satisfied we headed off to the next stop on our itinerary, Musée d'Orsay, though before we got to 'the horsey musuem' Matt took us on a nice detour to see Notre Dame and a walk along the Seine. The walk was slightly longer than most of us expected, though Matt kept insisting the museum was just at the next bridge!
After travelling one Matt-kilometer we arrived at the museum, where we saw a lot of Monet's, Van Gogh's and some incredibly detailed paintings that looked more like photographs. We spent several hours wondering around and appreciating all the fine art – though Sally wasn't really impressed by anything except a sculpture that looked a lot like the Fox's Mints polar bear! Again we weren't allowed to take pictures inside so there's nothing to show of our time in Musée d'Orsay.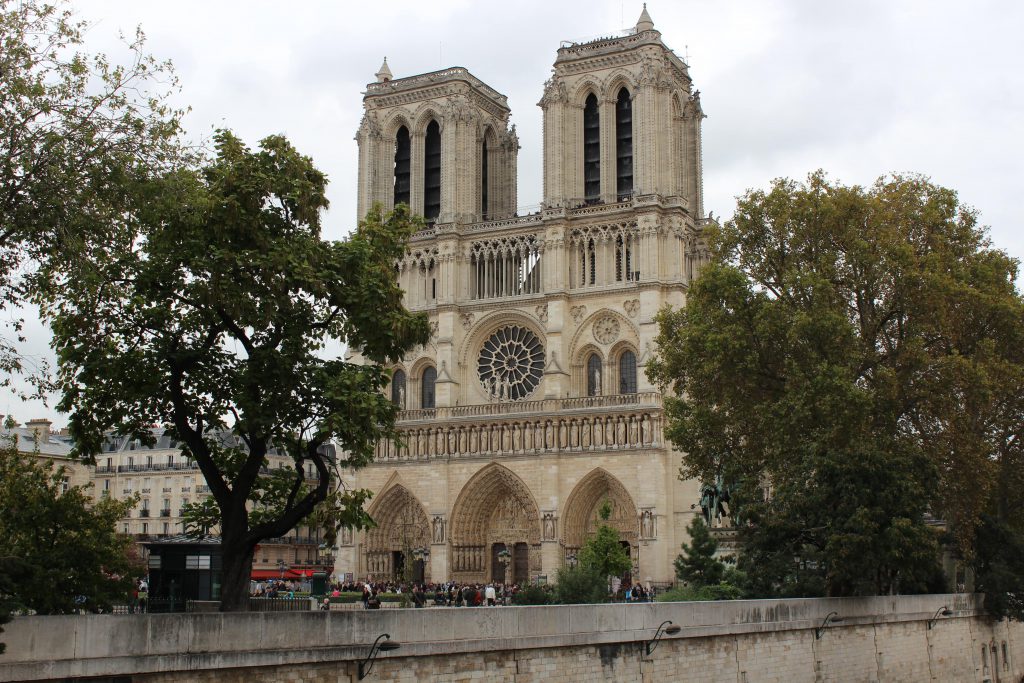 After Musée d'Orsay we still had some time to kill, so we headed to a restaurant for some much needed liquid refreshment! A pint each for the guys, and some softer refreshments for the girls. We then headed off to Champs-Élysées to see the Arc de Triomphe and the Place de la Concorde. As per Jemmac tradition James C. played us Rebecca Black's 'Friday' with his unlimited phone internet…it was Friday after all! With our sight seeing done, we headed back to the Eurostar at Gare du Nord with the hope of finding a nice créperie to finish off our French experience. We were not disappointed!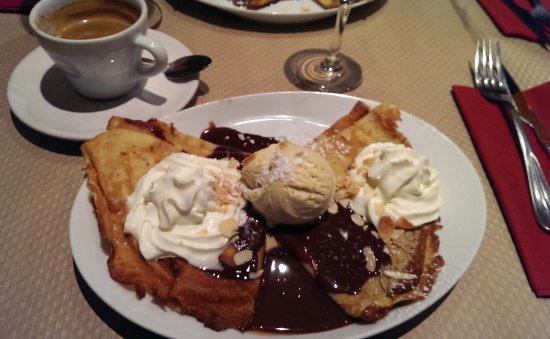 After a long day 'bimbling' around Paris we couldn't wait to head home, and the comfy seats of the train were very welcome indeed! The day wasn't quite over yet though, as we still had Katherine's aptly named "Le Quiz" to keep us entertained.
The two teams were Matt, Sally, James C and Lauren (Team 1) against Ali, James S and Greg (Team 2). Despite the disadvantage of having three members, Team 2 put up a valiant fight … but the final score saw Team 1 scoring 37, wiping the floor with Team 2's much less impressive 26.
After the quiz everyone was well and truly shattered, but even the train breaking down at Ebbsfleet couldn't ruin what turned out to be an exceptional day.
A special thanks must go out to Katherine for organising such an incredible day out …. maybe Sally won't ever have to complain about organising a Team Building day again!
Ali
Quotes from the day:
Katherine : "A great, very tiring day with plenty of good food! The views of Paris from the top of the Sacre Coeur were amazing and we got to see the Eiffel Tower from there. A highlight was the brilliantly conducted "Le Quiz" on the way home."
James S : "It was great to have a bimble around Paris for the day with a top notch lunch in the middle. A brilliant day out!"
Sally : "Although everyone had an exceptionally early start, it was well worth it for a day of culture and food. Thoroughly enjoyable day out"