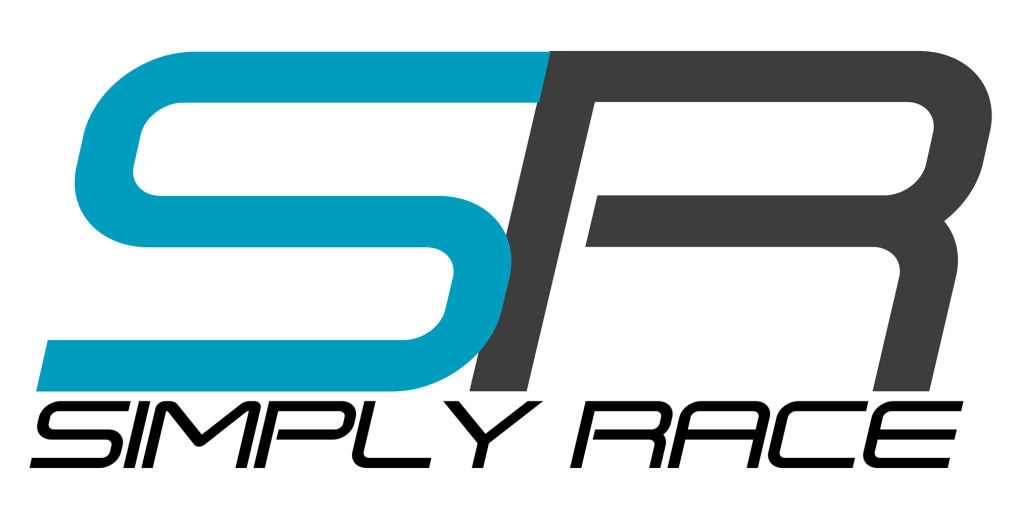 On the 18th of December a select band of hardy Jemmac Activity Day fans descended upon the SimplyRace in Milton Keynes for an afternoon of Virtual racing.
Such finely turned athletes can't compete on empty stomachs, so we put ourselves through an arduous pre-event warm up firstly at Yo-Sushi in CMK where after several New Orders we collected an impressive array of Blue trays (well it was Blue Monday after all) before washing it down with a quick(ish) trip to Starbucks.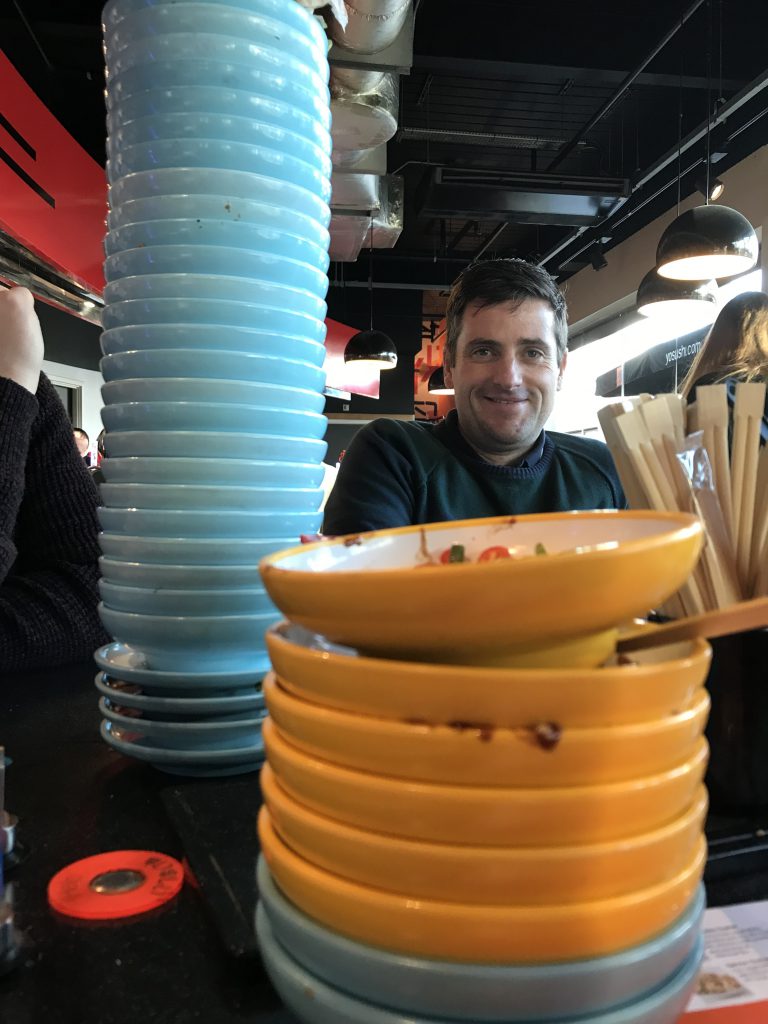 Then it was on to SimplyRace for the main event. The venue has a suite of 15 linked racing simulator 'pods' running rFactor2. Each pod featuring triple 40″ screens, Thrustmaster force feedback wheels and pedals, racing seats, bass shakers (for tactile feedback) and crucially intercoms so that we could hurl abuse at each other, in theory in private amongst our own race group. I say 'in theory' as in practice the audio is also broadcast over speakers for all and sundry to hear. More on that later!!
The event was a four race challenge meaning we got to pick four different venues with a choice of cars for each. So the first decision was where to race first. We settled on Donington Park. A tight circuit but with some interesting sequences of corners and some good undulation with the plunge downhill through the Craner Curves being particularly challenging. Clio Cup Turbo were picked to drive – the theory being that front wheel drive with limited horse power they should be relatively easy to control. Plus not having exposed wheels there would be less chance of us flipping each other over during the inevitable contact.
We then received a quick briefing to tell us how to turn off the pit lane speed limiter, how the intercom worked, how to flash our headlights (a crucial tactic for night racing) and how to toggle the Stability control between Low/Med/High/Off and the same for Traction Control. We also had to decide whether to use Automatic gears or manual. Given the gears were of that flappy paddle variety most of us opted for manual.
Event 1. Donington Park National (Clio Cup Turbo's)
Practice/Qualifying proved interesting with Alistair turning 'the other left' out of the pit garage and therefore setting off the wrong way down the pit lane. Things soon got worse with Hayden driving the wrong way around the track, wiping out James W who naturally claimed to be on his fastest lap at the time! At the end of 10 minutes of mayhem it was James S on top, with the times as follows: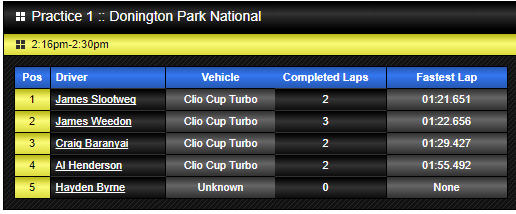 The race proved eventful, with James S making good use of his intercom in a one man bid to improve driving standards! Happily Hayden managed to get some laps on board and Craig begun to find his mojo with a fastest lap time an impressive six seconds better than this qualifying lap. But at the front it was James W who had an untroubled race having hung left into turn one having seen both James S and Craig making better starts only to collect each other at Redgate in the process!
Event 2. Monza (Aston Martin Vantage GTEs)
Having not learnt our lesson at Donington, we then opted for both a faster track and a faster car!!! This time racing at the home of the Italian GP Monza in Le Mans spec Aston Martin's. The rumble of the V8's was much more enjoyable than the whine from the Clio's. Al was beginning to find his form in the Aston which perhaps wasn't a surprise with him being Jemmac employee 007 after all. Hayden also made good progress managing to record some lap times in qualifying and Craig was once again quick – often across the grass though! At the front James W turned the tables on James S in a tightly fought battle for pole.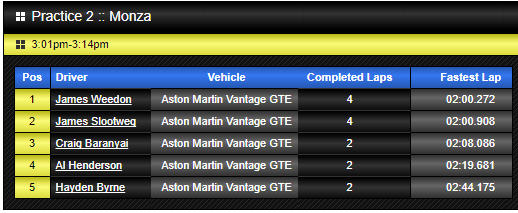 The race was much closer than Event 1, with James W, James S and Craig all taking their turn in the lead but a series of penalties and enforced stop and go pit stops changed things around with Hayden bursting through the field to take a well deserved second place albeit a lap down on James W who survived some early race skirmishes to take his second win of day.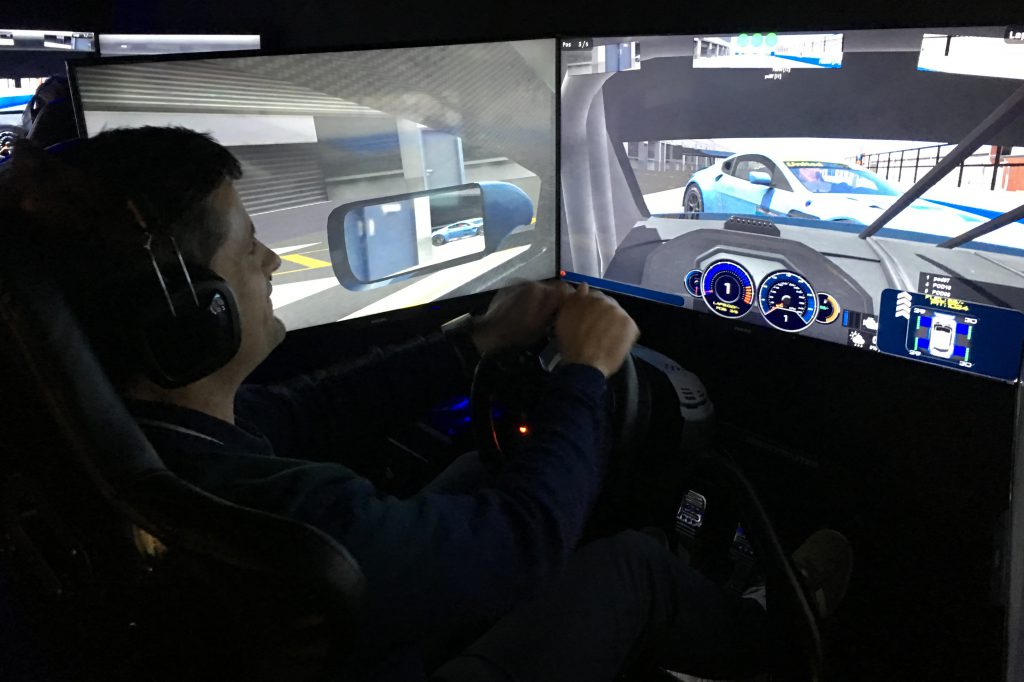 Event 3. Donington Park National (Aston Martin Vantage GTEs)
So enamoured were with the Le Mans spec Aston's that for event 3 we chose to return to Donington and use the Aston's again. But there was a twist. This time the race would be in the dark!
During our briefing we had been told how to flash the headlights on our cars, but there seemed little point in the daylight. However, at night it turned into a perfect weapon as doing so lit up the cockpit of the driver in front making it virtually impossible for the driver of said car to see the track!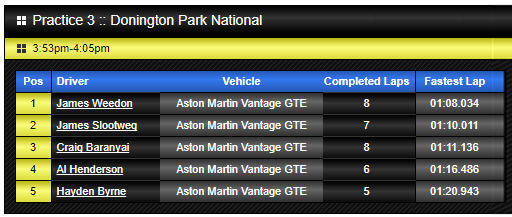 Putting this to the test in the race, James W crept up behind Alistair as the pair charged up hill towards the tricky tight right-hand bend at McLeans. A quick dose of full-beam was duly dispatch resulting in Alistair turning sharp left off the track as it went right, heading straight into the gravel trap amidst a stream of colourful language. Unlike our wounded Scot, his assailant kept quiet on the intercom although the sniggers and guffaws could clearly be heard from the adjoining pods!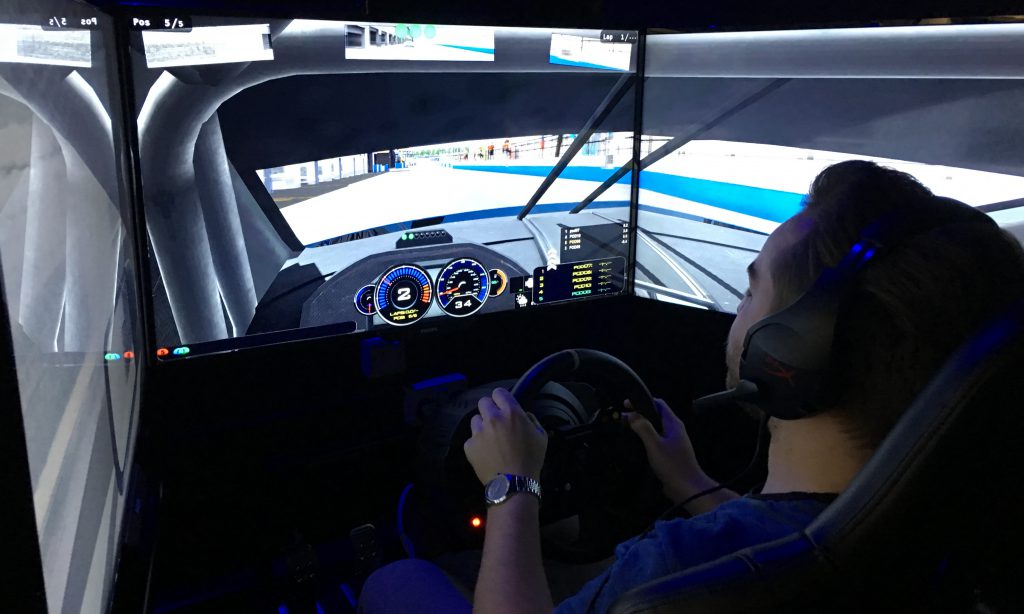 As the race progressed the flickering of headlights became an increasingly common sight across the darkness of the East-midlands venue, with Craig in particular treating others to a frenzy of flashing. Craig also continued his progression in lap-pace, recording the second fastest lap of the race edging James S by just 4 hundredths of a second on his way to third place in the race.
Event 4. Spa Francorchamps (Porsche 997 GTEs)
By this point even finely turned athletes such as ourselves were beginning to wilt a little, but stalwarts to the end we pushed ourselves remorselessly on for the final event, held on historic GP circuit of Spa Francorchamps in Belgium. For those in the know, the highlight of any lap of Spa is the infamous Eau Rouge corner. A beast of a turn that rises up ahead of you like some great spectre emerging from the shadows as you plummet downhill from the hairpin at La Source.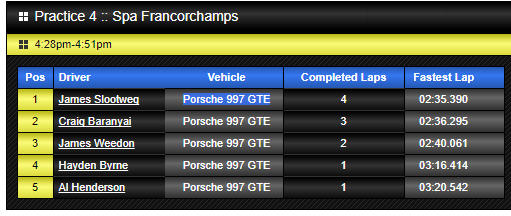 Bragging rights were available to anyone able to negotiate Eau Rouge without lifting. Suffice to say, no-one did! In reality the Porsche's were a little disappointing after our lovely Aston's exhibiting a reluctance to turn in coupled with cast iron grip at the back. If nothing else it proved what a good simulation of vehicle dynamics rFactor2 provides! So whereas the Aston's were all balance and drift on the exit, the 911's required aggression on turn in (to try and get the nose in), then a rather dull launch from the bend on exit as weight sitting over the rear axle took effect. Plus in truth Spa was too big for them with lap times in excess of 2m 30s!
Qualifying was headed by James S closely followed by Craig in second place, with James W complaining that he hadn't managed to get a clean lap in all session. Welcome to the real-world!
James W found his form for the race though and led the field home for the final time of the day, albeit having left Craig beached nose in to the barriers after some rather robust tactics at Pohon. Take heart though Craig – James W was clearly sensing the presence of a challenger resulting in some very Vettel-esque driving!
The final reckoning
As might have been expected as the only participant with real racing experience (not to mention of Donington Park!!!) James W claimed top step of the podium followed by rFactor guru James S. Third place went to Craig who was also awarded 'Best-improver' of the day. Special mention to Al and Hayden for some of the afternoon's more memorable manoeuvres not to mention some priceless – if unprintable – quotes over the intercom!
Until next time?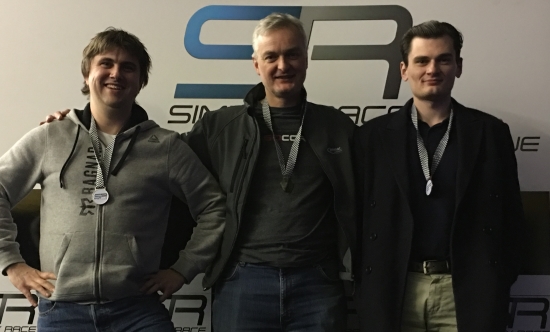 Quotes from the afternoon:
Hayden: "Thanks for organising – Great day! The racing simulators were great fun, despite spending half the time facing the wrong direction!"
Al : "Despite being almost the slowest person there (thanks Hayden!) an enjoyable afternoon was had pretending we were all racing drivers. Thank heavens for the traction and stability control, or there would have been a few less virtual Aston Martins in the world!"
James S : "A superb way to spend the last afternoon before 'breaking up' for Christmas!"
James W : "An enjoyable lunch (that was some stack of plates in Yo-Sushi) and a really fun afternoon. Thank goodness there weren't any 13 year olds around to show us all up!"