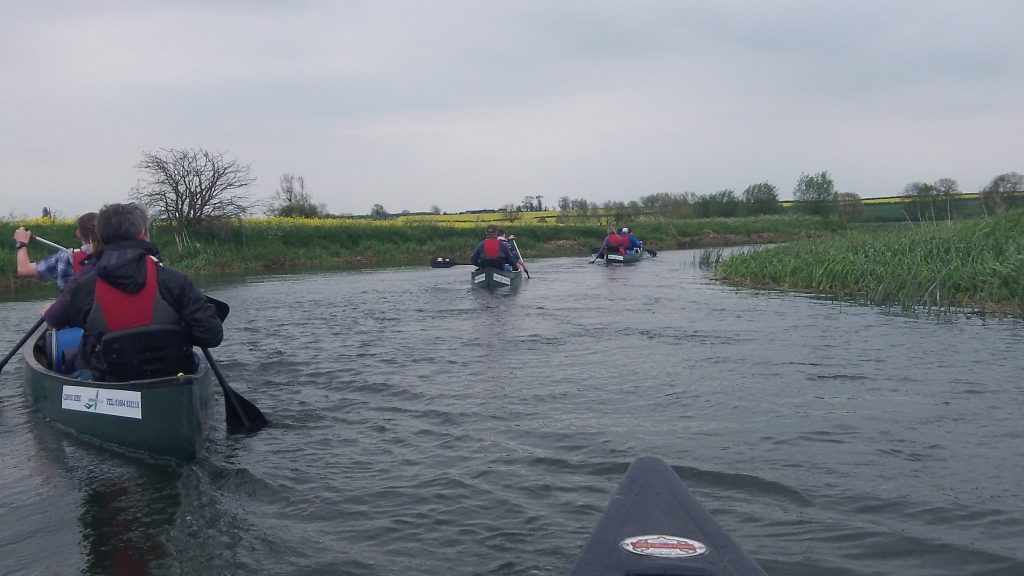 Following the success of last year's team building day canoeing on the River Nene (see here for details) and the lack of drowning and other water related injuries, Jemmac once again took to the high seas for their 2012 team building event.
The River Nene was again chosen as our foe, this year's starting point being Ditchford Lock near Wellingborough were we were met by our hosts from Canoe2.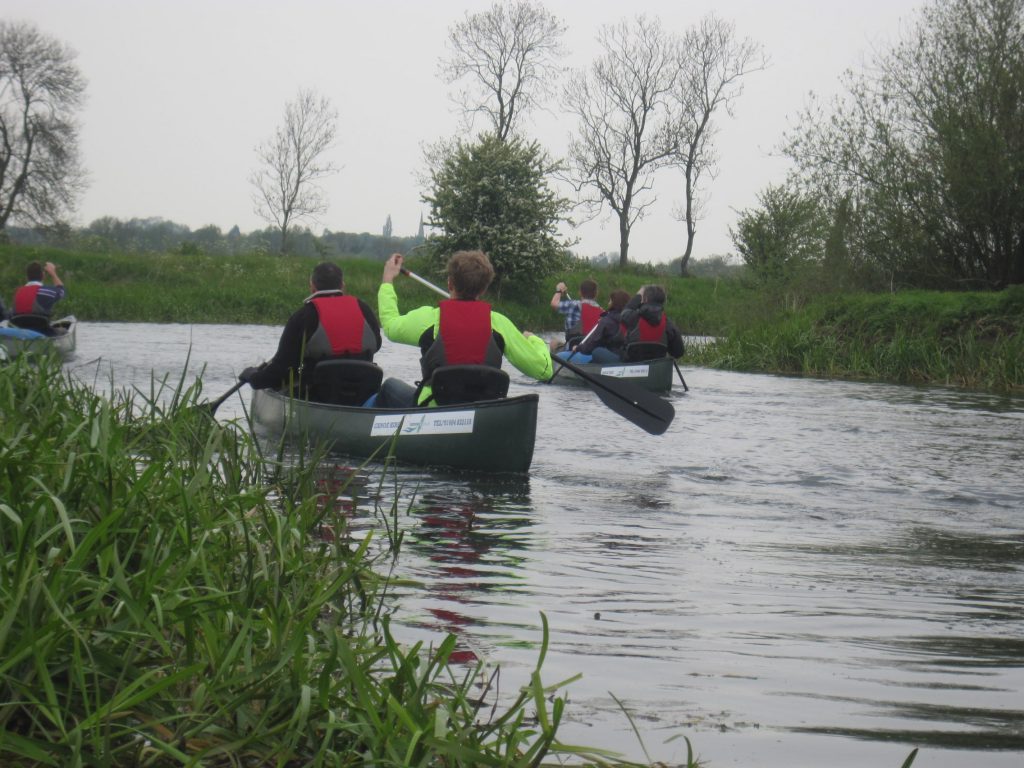 Given that it did nothing but rain for the weeks preceding the event (ever since Anglia Water announced there was a drought) it was looking like the event might have to be cancelled. Thankfully, the rain stopped long enough for the river to calm down a little and it was all systems go!
The numbers had swelled slightly since last year with Jason and Greg joining the company and non executive chairman Graeme also in attendance, so we had an odd number of people meaning the two man canoes of last year had to be supplemented with a 3 man 'family' model. This was to have some interesting implications later on in the day…
With most of the crew fully seasoned sailors following last year's exploits there wasn't too much in the way of learning required so we were quickly on our way. It soon became apparent that the main challenge of the day was going to be the wind – it was a blustery day and some parts of the river are very exposed. Just as well Sally had brought extra chocolate supplies!
Like last year, the calm of paddling gently along the river was occasionally interrupted by having to negotiate locks. It seems that some helpful soul went around beforehand ensuring that any sizeable gates were firmly padlocked closed, requiring much lifting of canoes!
Team building spirit was in abundance whilst getting round the locks, but quickly evaporated once boats were back in the water. The presence of ropes at the back of each canoe was very handy for hitching a free ride for your canoe at the expense of others (see below).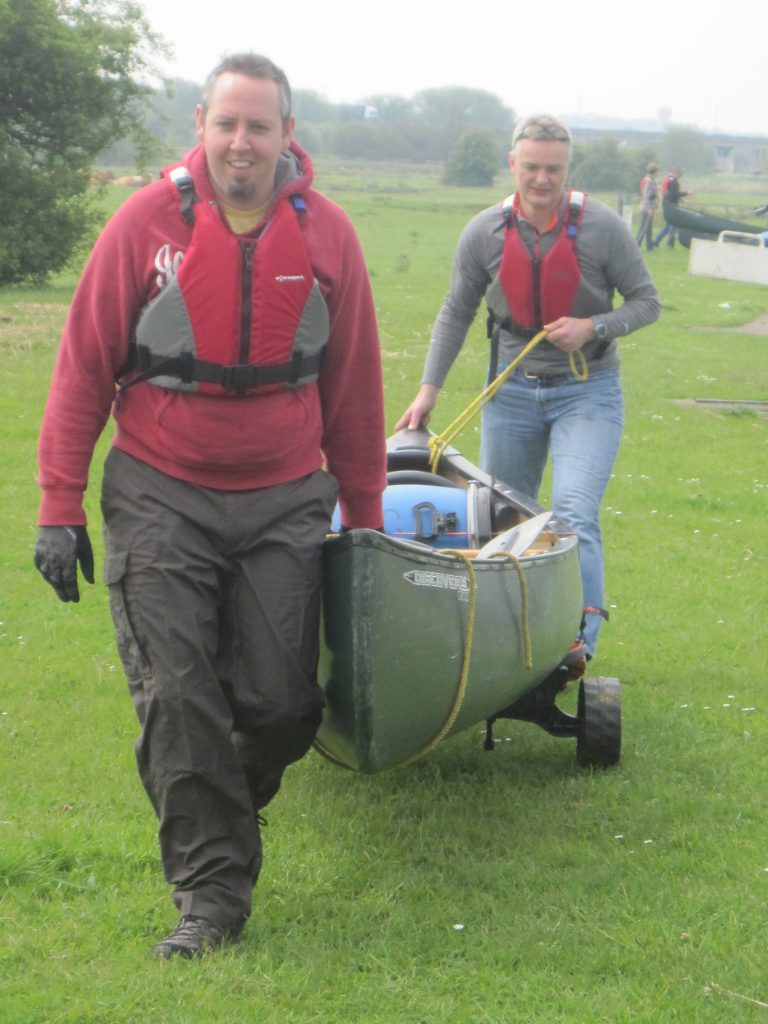 With 6 miles under the bows, Willy Watt Marina – not to be confused with the Chocolate Factory! – hove into view. Lunch was to be at the tea room here, and was a very pleasant affair. Paddling is obviously a very tiring occupation as a certain Jemmac Director was seen to have a double helping of baked potato, whilst one of the other team members took on the 'Double Ultimate Strawberry Milkshake Challenge'.
Just as well there were only 4 miles to do after lunch!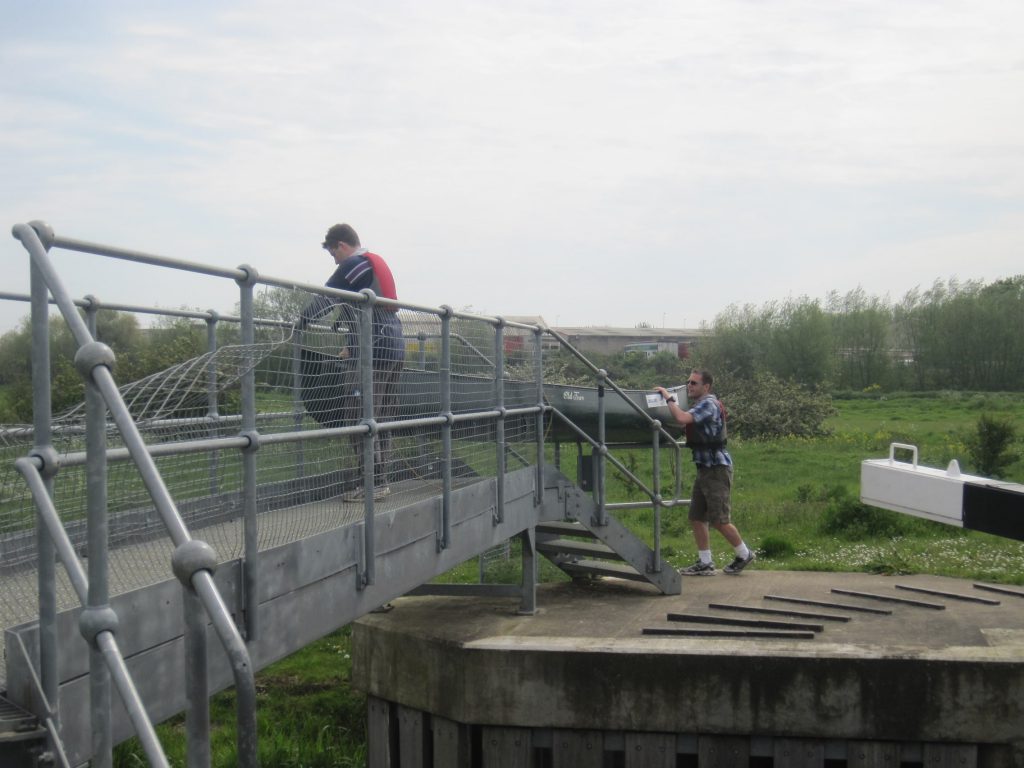 Suitably refuelled and buoyed up by the morning session, we headed back to the boats and proceeded to swap boats. Lunch must have been sitting very heavy as the designated crew for the 3 man canoe were heard to proclaim that their steed seemed "a little unsteady" and "a bit low in the water", but in true British bulldog fashion they battled on.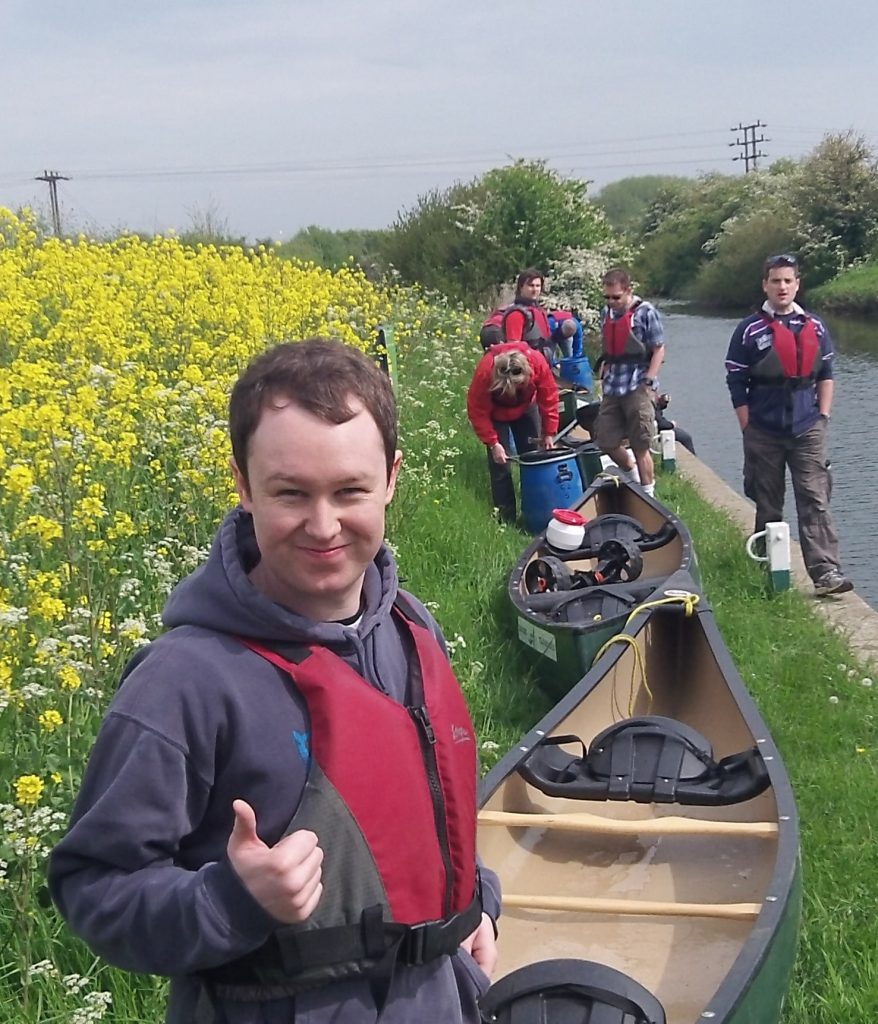 Having come through largely unscathed last year and for the morning session this year, lady luck had to desert us at some point. If you had run a book before the event on who was likely to be the first in the water, then one name would have been at the top of most people's lists…
Take an unstable boat, the self-confessed clumsiest person in the office and possibly a tiny bit of outside interference involving raised paddles and splashing and you have a lethal cocktail.
Never one to disappoint her fans, Lynne soon obliged! Along with Greg and Chris, she made up the 3 man crew in the two man boat.
There was a squeal, a splash and all of a sudden Action Stations were sounded with 3 team members in the water. Happily, the buoyancy aids worked as advertised, and Lynne, Greg and Chris were soon hauled out onto the bank.
It was quite chilly in the wind when you were dry, never mind after a dip in the river, so wet clothes were rapidly swapped for dry ones begged and borrowed from other people.
At around 4pm the Jemmac Flotilla steamed into Thrapston and disembarked. We had arrived early for our pick up (despite our unscheduled rescue stop) so retired to the nearby Woolpack Inn to get warm.
It would have been rude to refuse the offer of liquid refreshment at this point, so the finer points of open water swimming were discussed over a warming beer or two.
All in all a very enjoyable day out was had; thanks must go to Sally for doing a sterling job of organising and providing Jelly Babies and chocolate.
Alistair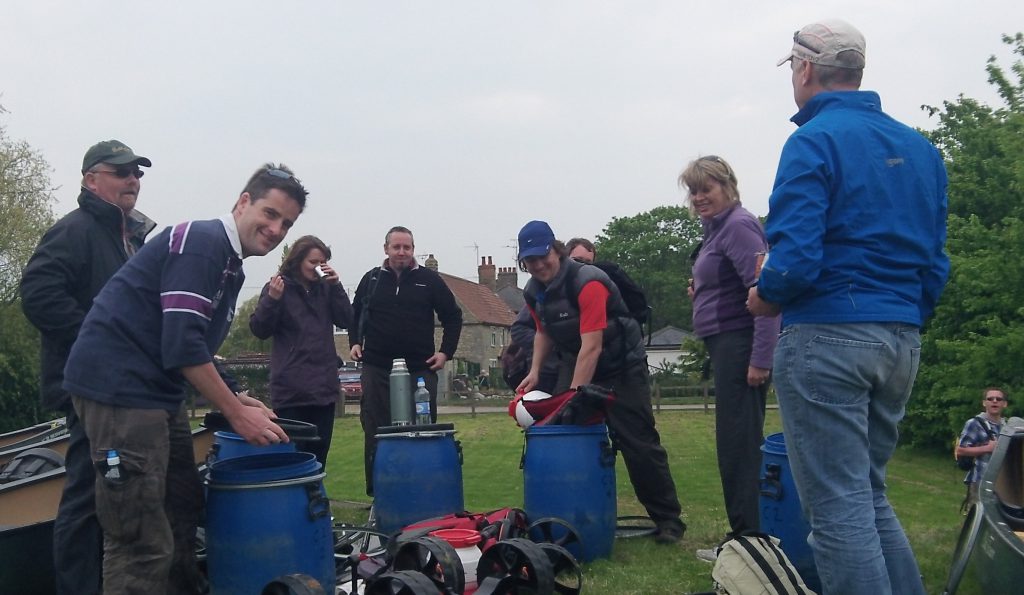 Quotes from the day:
Lynne : "Falling in was a very unexpected, "breath-taking" and slightly scary experience but once Greg, Chris and I were safely on the bank and changed into some drier clothes, it seemed rather amusing and a great way to wind Al up!"
Greg : "Could do with spending more time in the canoe and less time in the river, very cold! An enjoyable day all round though."
Jason : "After having a few issues with steering in the morning, I gradually got the hang of it all and enjoyed the day. Tiring and hard work at times, but all in all, a lot of fun".
Graeme : "Just come for a gentle paddle down stream to a pub, they said. Just a few strokes followed by a long glide, they said. They forgot to mention the howling headwind……..and the fact that we'd be towing Lynne, Greg and Chris along!"For more details on canoeing on the River Nene see www.canoe2.co.uk