This year's team building was to be the Land Rover Experience at Rockingham Castle and what an experience it was! The day started bright and early as we ventured to Rockingham Castle from different sides of the country requiring everyone to set off from home at 'very early o'clock'!
On arrival we were enthusiastically welcomed by both the Land Rover team and more importantly, by a delicious bacon sarnie which thanks to a bit of luck with the weather we were able to enjoy outside in the morning sunshine.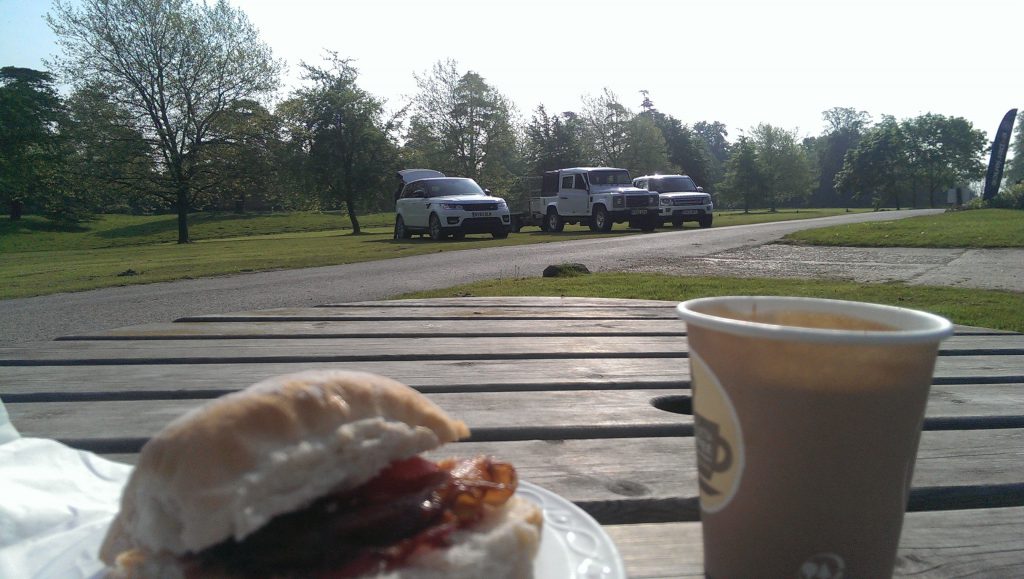 What a great start to the day!
Once suitably fed, watered, and safety prepped the morning's activities began. We were split into manageable sized teams and sent off to our first pursuits.
Archery
The archery session was a gentle introduction to the day's activities with a very calm instructor giving us tips on how to bag a bulls eye; the rest of the day was not such a calm affair!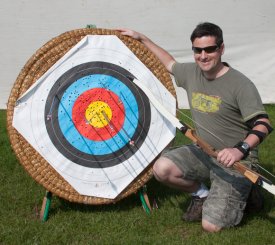 The blind driving event involved team members taking it in turns to navigate whilst their driver was blind-folded and, at times, hysterical!
The course consisted of a series of gates which the team had to work together to get through in as fast a time as possible with as little damage as possible. Inevitably, the course took a beating … however, happily no sheep were hurt.
Ed: Performance of the day went to the pairing of Katherine and Al who managed to miss the entire course, driving straight into a small spinney in record time! In fact, rumour has it they never did manage to make it round the entire course, with Al struggling to talk, let alone give direction amidst all the giggling!
Off-road Trial Driving in a Land Rover Discovery
Teams also got to try their luck at driving a new Land Rover Discovery up, down, across, over and around what was essentially a muddy pit or as the instructor called it "An Off-road Trial Driving course". This was a chance to sample a Land Rover in its natural environment and mighty impressive it was too!
Drivers were scored based on their ability to follow the course (Ed:which surprisingly 'navigator' Al managed quite well), their smoothness on the controls and across the terrain (the spilt coffee test) and their ability to keep their thumbs out of the steering wheel (to avoid injury when the wheel was whipped away from them by the bumps and dips).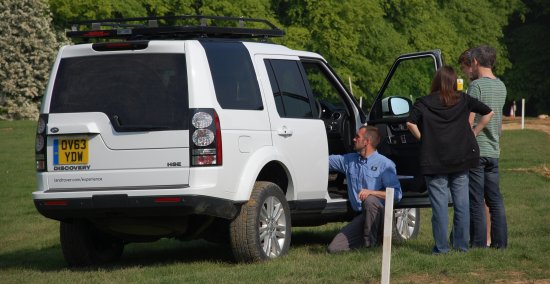 This was a traumatic experience (for both drivers and passengers – Ed:You aren't kidding Katherine!) when the driver was unused to the Land Rover's Off-road skills on steep inclines. Others managed to get to grips with it very quickly, with new starter Ali in full control of the beast.
Top student turned out to be James C with a score of 19 out of 20 ably matched by team mate Matt – some great team building clearly in evidence. However, some of the teams seemed unaware that the day was in fact a team event, screaming 'Coffee' from the rear of the vehicle at the mildest of jolts and costing their team mates valuable points (Ed: Not mentioning any names Team D – hrmmmppphhh!)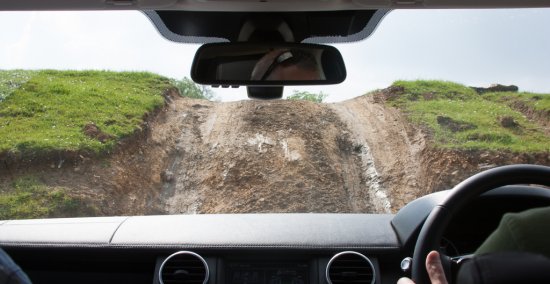 Whilst Team D were at the wheel, other teams also told tale of being able to hear Katherine screams from a distance of at least a quarter of a mile, despite her being inside a vehicle with all the windows closed tight shut! When questioned on events, her Team D team mates simply replied "pardon?" … before removing their ear plugs!
Teams also had a stab at Can-Am driving (basically 1000cc 4 wheel drive All-Terrain-Vehicles) on an off-road track through the beautiful castle grounds – although rather disappointingly a precious glimpse of the Castle managed to elude us. Mark and James S spent their drive trying to get as wet and muddy as possible – with great success!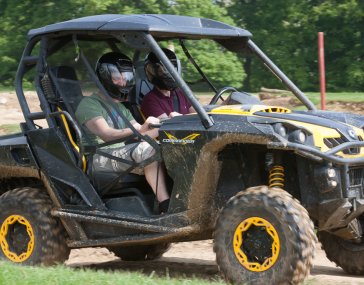 Meanwhile, new starter Ali put in a spirited performance which left passenger James W grabbing for the emergency pull chord and had the instructors waving frantically to try and get him to slow down!
The laser clays was another activity we tried our hands at, with some being naturals (James W) and others being perfectly terrible. Ed: To be fair the guns were ridiculously heavy – far heavier than genuine shotguns so we were told.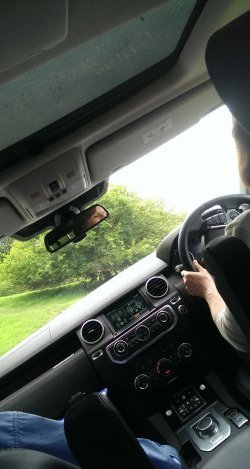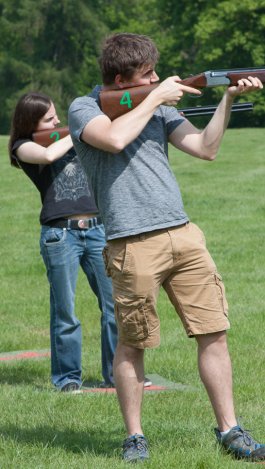 The morning concluded with a delicious lunch which was enjoyed outside in the glorious sunshine, with some team members going back for seconds… well… the asparagus wrapped in Palma ham were good!
Teams had to repeat the morning's tasks but this time we were scored. Some notable results were Lauren in the Land Rover, who got rave reviews of her prowess from the instructor, and James C in archery who scored a stonking 58/60 points for his effort.
As an added bonus we were treated to a test run of the Land Rover Experience's new toy – Powerturn. This turned out to be a twin engined buggy with each rear wheel driven by its own engine and throttle. With front wheels resembling those on a shopping trolley and a weight distribution biased to the rear entertainment was guaranteed!
Pairs took it in turns to have a go at navigating the course with each driver controlling a throttle (and therefore engine and rear wheel). Individuals were then let loose on the machine and the results were wheelies, doughnuts and much hilarity.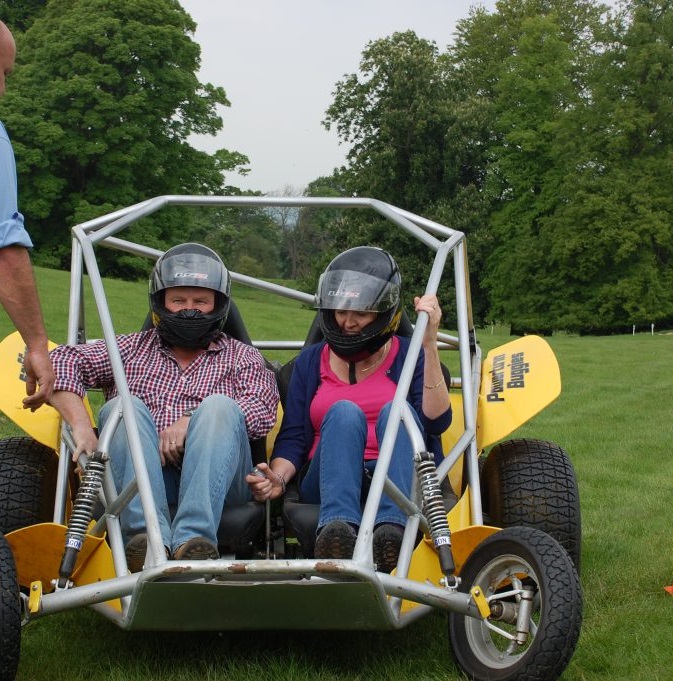 To end the day all of the afternoon's scores were added up and prizes went out to the best and worst competitors. Lynne, Matt and James C of Team B fame were on top as Best Overall Team, with James C also scooping the prize for Best Overall Driver by a landslide (thankfully there were no landslides on the course during the rest of the day).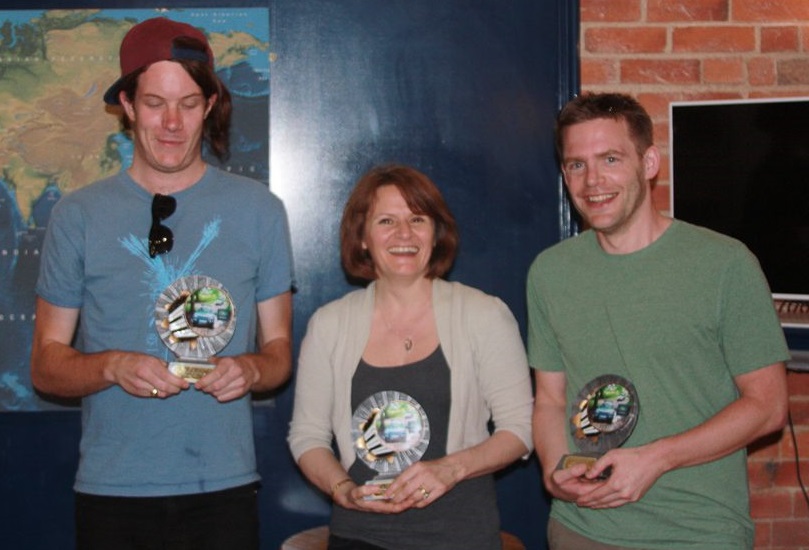 Al from Team D was the proud recipient of the "Don't Give Up Your Day Job" award, not that he minded – a trophy is a trophy after all!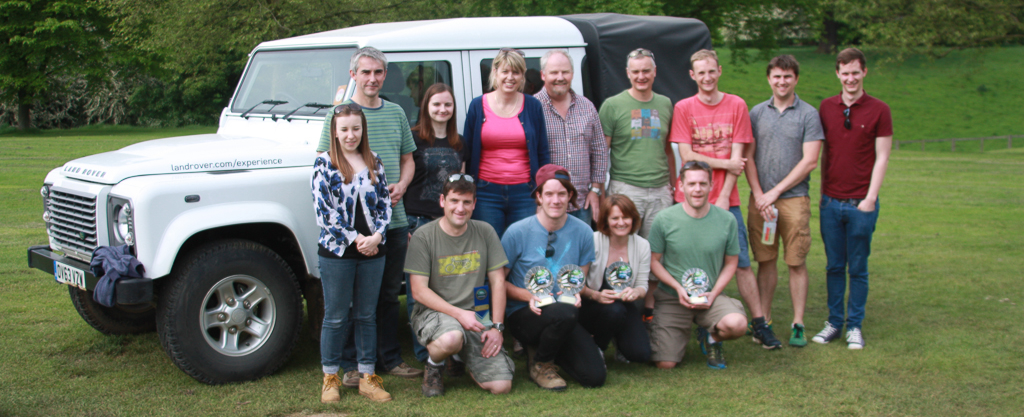 Overall, an excellent and exhausting time was had by all! Special thanks from everyone to Sally for organising another great Jemmac Team Building day.
Katherine
Quotes from the day:
Ali : "An absolutely incredible day, I couldn't think of a better first day at a new job. I feel like I really got to know everyone and it really did 'build the team' … though perhaps I shouldn't have scared one of the directors half to death!"
Lauren : "Marvelous day out with the team blasting around in the sun. Particularly in the Can AMs."
Matt : "Putting your life in the hands of a colleague as they charge up a 1:1 slope in a 1000cc Can AM ATV is a probably one of the most fun ways of building team trust.. or maybe its trying to coordinate a PowerTurn buggy with one throttle each as it races between cones across a field. Whichever it is, I think everyone had a great time with a good blend of different activities – both driving and non-driving".
James C : "It was a really great day, I thoroughly enjoyed all of the events, particularly trying to pull wheelies in the Powerturn. I think with a bit of practice everyone else may be able to win some awards as well!"
Sally : "Another well organised activity by Jemmac's brilliant event's co-ordinator…"