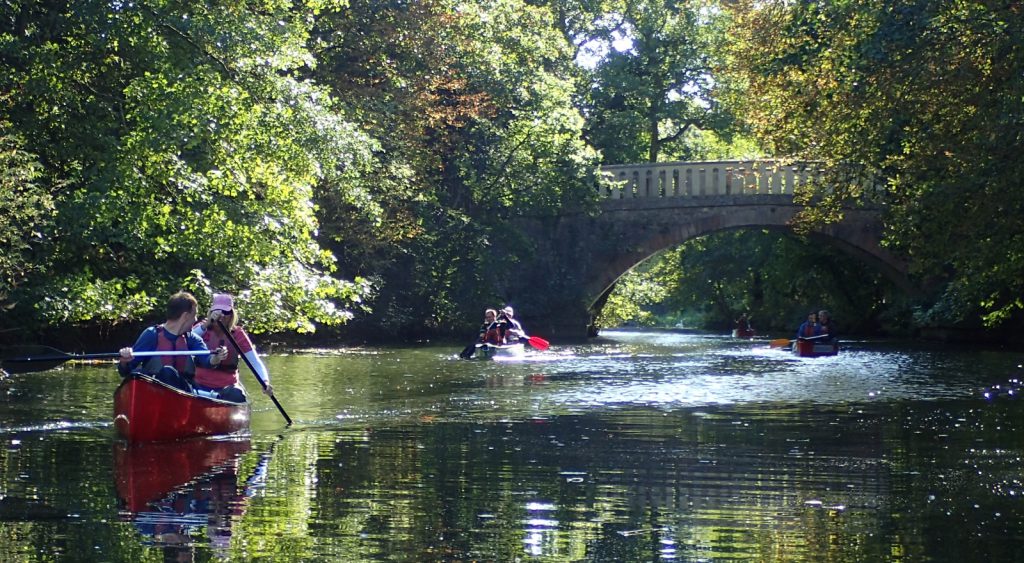 2018 has been a very busy year at Jemmac, so on the basis that "if it ain't broke don't fix it" we decided to return to an old favourite for this year's Team Building – the River Nene for another days Canoeing.
So expert organizers Canoe2 once again provided the necessary transportation, equipment, maps and safety advice. Actually, maybe that's not quite true on the maps which bore very little resemblance to the river itself! Of course, there were also the hand written notes but those proved almost impossible to cross reference with the map, especially for those of now of an age where reading glasses are essential. More on this later!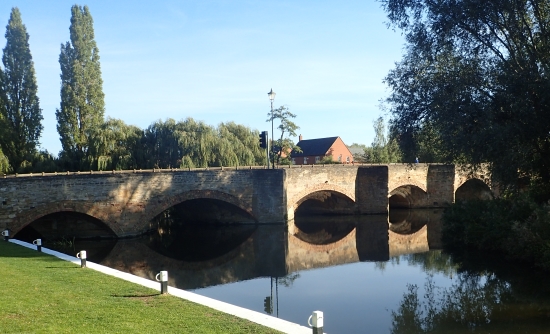 Sadly we were a rather depleted unit as we met up Thrapston for the start of adventure. With five colleagues absent the remaining ten did at least divide naturally into two which given our previous experiences with three person Canoes on the River Nene (see here for more details) was a very good thing. Provisions were doled out, flotation devices zipped up and paddles selected. Apparently its best if they fit under your chin – not something easily accommodated for yours truly!
In the interests of impartiality a modified version of the 70's swingers party classic of "car keys in a pot" took place with partners pairing up based on matching key tag colours. So Mark was with Sarah, James W with Lauren, Sally with James N, James S with Alex and Kevin was unlucky – i.e. he got Al! As it happens though an ill advised joke the day before that we should all bring Supersoakers had been taken seriously by one member of the team. So perhaps Kevin wasn't so unlucky after all with Al duly filling up his water pistol in preparation for a good days 'sport'.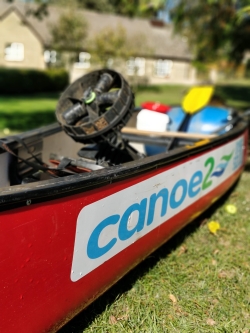 So to the river. Did I mention the instructions? The other 'challenge' being phrases such as "look for the posts before the weir". All well and good, except by the time you have spotted the weir you are already well past what you are looking for! Oh, and the 'weir' was actually labelled 'sluice gate' and with us not being water born creatures we failed to recognise that in this instance they were one in the same. Besides, technical folks like things to be factually correct. It's either a weir or it isn't surely? And no, I wasn't calling you 'Surely'.
The net result was total mayhem as five Canadian style Canoes paddled around aimlessly at the first lock searching for the elusive disembarkation point. There were several tempting options competing for our attention but each was labelled with a sign saying "Canoes DO NOT disembark here". All well and good, but what was lacking was a sign that said "Canoes DO disembark here".
In the end a local whose house overlooks the lock took pity on us and pointed out the tiny landing strip we had all merrily paddled past as we had approached, eyes glued on the locks and the aforementioned landing pontoons! No matter, its team building and through our pretend incompetence we had managed to include the general public in our event already. By our reckoning that was 1-0 to Team Jemmac already!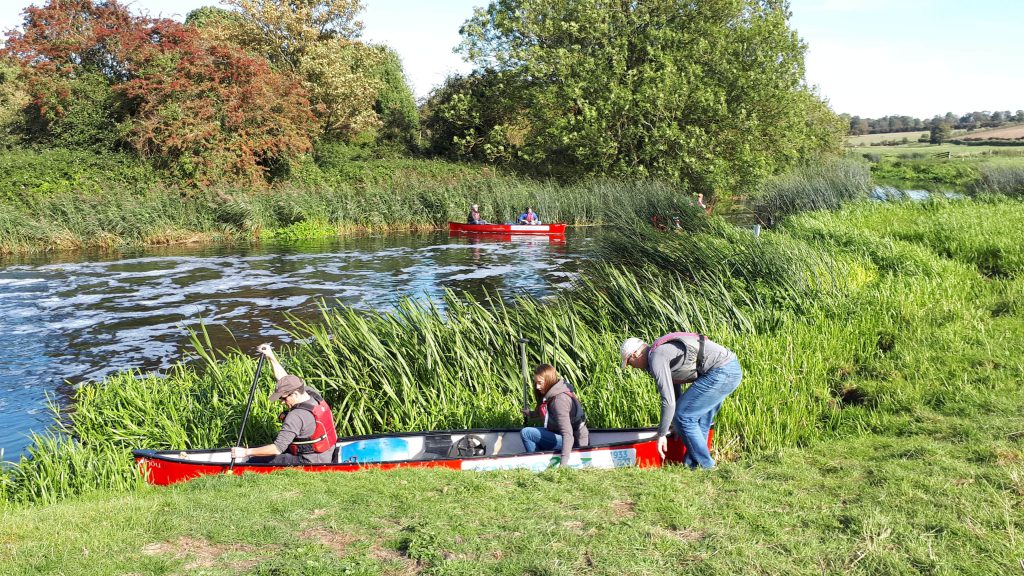 On to the second lock. Now I've personally done the route we were on two times previously and never, ever managed to spot the advertised exit point. On each occasion we've ended up man handling canoes over fences and gates and down paths that they really seem to have no desire to go down. So when a pair of intrepid explorers (i.e. Kevin and Al) refused to accept defeat and set off back up stream in search of the weir and the matching fence posts (now easier to spot being after the weir instead of before them) Lauren and I decided we couldn't let them battle on alone and headed off in the same direction.
With the weir and posts located and the grassy path traversed we happily set about launching our canoes into the backwater safe in the knowledge we would meet up with our colleagues soon, no doubt a few hundred meters down river once they had rejoined from the lock. Except the river had other ideas. Where we had wanted to turn right, it stubbornly refused heading at 90 degrees to the previous flow. The strong current emanating from the weir meant we really had no choice in the matter.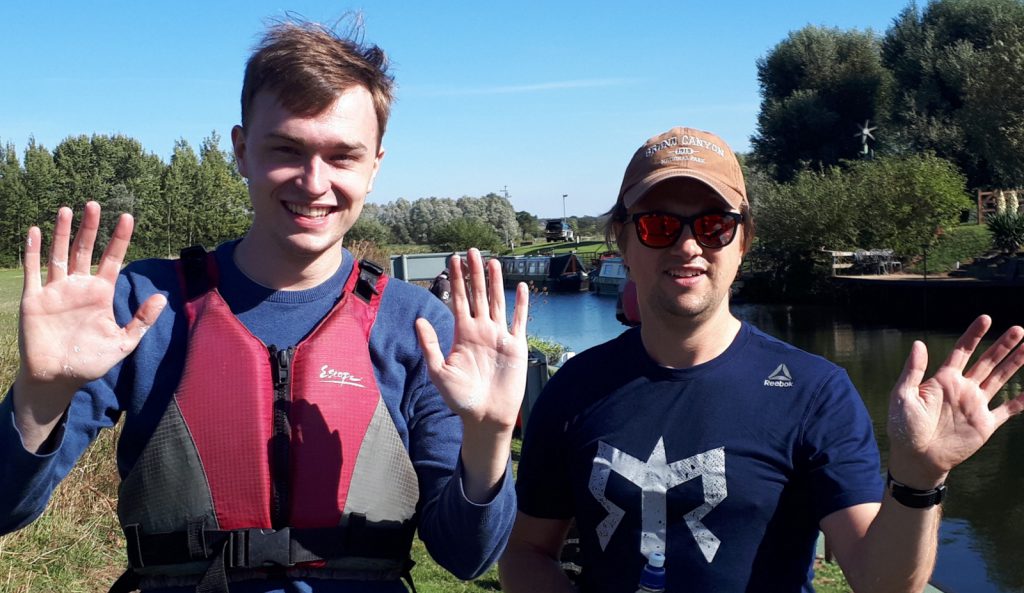 In fact, Lauren and I shot backwards down the river at speeds never previously achieved when paddling. It all felt a little perilous – and now I come to think of it we should have at least made beeping noises so anyone round the corner was at least aware that "this canoe is reversing". Eventually we managed to gain control of our canoe and found a calm spot to wait up for Kevin and Al.
As we drifted further and further away from where we had expected to be we began to get a little worried that perhaps we had missed a turn, or that we weren't even on the River Nene any more, but perhaps an adjoining river that would take us who knows where?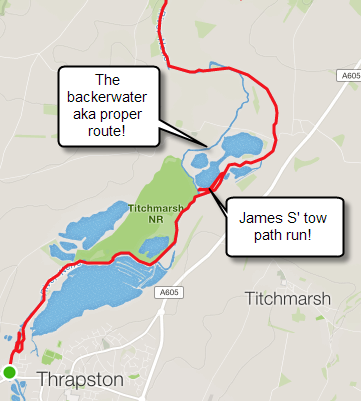 The sense of danger was heightened by some very over grown sections, one featuring a floating carcass of a dead sheep (did I mention the dead sheep Sarah?) which unfortunately could not be easily avoided. The lead canoe got snared as it tried to pass before Lauren unleashed her full rock climbing power breaking us free by ripping a section of branch away with her bare paddle!
Things fell very quiet after that as Kevin and Al also faced the gorge of terror…and for anyone who knows Kevin you will realise that is a very bad thing indeed. When he's happy, Kevin shares his joy with anyone within a half mile proximity. Except on this occasion he wasn't. After some waiting, some worrying and a quick paddle back eventually Al and Kevin's canoe hove into view and our worst fears were confirmed. Kevin was sporting several cuts and was most definitely 'not amused'. Good fun this paddling eh?
As the miles drifted by promising rows of trees after rows of trees failed to be ones on the approach to the pub (sorry Lauren I might have thrown you a bit of curve ball there).
By this point we had decided that the backwater described as scenic (which it was) probably wasn't quite as short as we had expected. Lauren finally had a break through with the map and confirmed that actually we would rejoin the main river just a mile or two before our planned lunch stop at the pub.
And so it was that we eventually rejoined the main river, our plucky pair of canoes managing to dissect a boat powering its way down stream. Any hopes of seeing the other three canoes was dashed by the passing boats who reported that they were neither behind us or ahead of us. How odd. Oh well, to the pub then!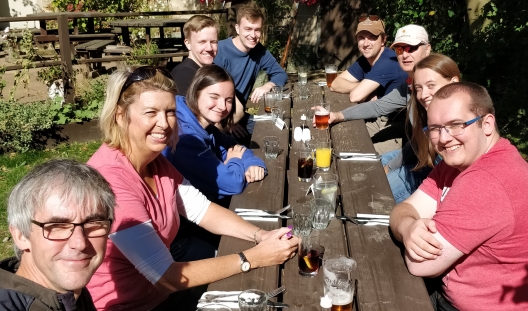 When our colleagues finally joined us (by which point we were supping pints I might add) they had all manner of excuses for why they had been so slow. "We stopped off so Mark could do some fishing – he caught a fish!". As if. "I ran back down the tow path looking for you" insisted James S. Yeah right, you're just looking to log more miles on Strava I reckon. "We phoned you but there was no answer" claimed Sally. Hmmm, indeed.
A hearty lunch was enjoyed at our chosen stopping point, The Kings Head where the bar staff quickly worked out that James S and Al were the trouble makers in the group. We can recommend the Creme Brulee which Al declared was much better than the Lemon Tart he thought he had ordered. But hadn't – as later proven by a vindicated Sally!
Imagine our surprise when all three tall tales were corroborated later on. Sarah confirmed that Mark had indeed caught a fish, with Mark treating us to a glimpse of his tiny telescopic equipment with matching miniature tackle. James S later uploaded his GPS trace and we could see that he had indeed run back to the point where we had dragged our Canoes from the water. Plus when I checked my phone, yes, there was a voice message from Sally. Ahem. Oh well!
The afternoons activities passed without much of significance bar a little light paddling for one member of the team, the lesson being that its best to keep the canoe up against the pontoon at all times as you climb out – good advice!
Compared to the morning the landing points were easier to find (even after a few beers), the river was wider (so less bramble covered banks were explored) and by now most of the Canoes were generally heading in a straight line most of the time. Bar James N and James S that is who had formed a new duo when the teams were redrawn after lunch. Apparently the swerving was a consequence of their 'prodigious power' twisting the canoe as they rocketed down stream. Erm OK. Not sure the same could be said for Al and Sarah who perhaps were just enjoying the scenery and really didn't want the journey to end?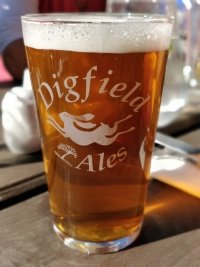 But end it did. Myself and new partner Kevin were quietly delighted to come home in the third place. Yes I know it wasn't a race, but a podium is a podium none the less. Besides, just before the end there was a sign that said "Start Line". Game on!
Imagine our delight when long time leaders James S and James N suddenly decided to head back up river "to go and cause some trouble". We were up to second place! Except Mark had started fiddling with his extendable thingy again, so Kevin and I took full advantage and nipped in – landing our Canoe first.
Winner, Winner, Chicken Dinner!!
When eventually Al and Sarah arrived revenge was extracted on Al for all his antics with his water pistol. Revenge is a dish best served standing on dry land when your opponent is sat in a canoe six feet below you and cant run away!
So another happy day on the River Nene drew to a close. If nothing else the shoddy maps and cryptic instructions ensured there was plenty of chat and debate – so perhaps it was all part of the plan to foster communication and team spirit. I would like to think so!

Thanks to Sally for making the arrangements, for sourcing the now traditional Jelly Babies and for letting me go for a ride in her rather nice convertible sports car. Top marks for the weather as well – despite it being late September we were treated to a beautiful sunny day. Here's to the next one when hopefully we can get more that 2/3rds of the company along!
Quotes from the day:
Kevin : "The backwaters recommended in the "correct" route offered some interesting views, this plus the good company meant there was never a dull moment. An excellent day all be it a little damp."
Alex : "It was my first team building day and I was a bit apprehensive about canoeing as I had never done it before. My nerves were soon put at ease when we got in the water and it turned out to be an extremely fun day, I hope we do it again in the future!"
Al : "We had a lovely day out on the River Nene, couldn't have asked for better weather. There were times where we paddled or what seemed like hours without seeing a single other person, the world could have ended and we'd have been none the wiser! Could have done with a motor on the canoe to make life easier after the 3 course lunch, though!"
Lauren : "A great day out with the team on the river. Luckily most of us managed to stay dry!"
For more details on canoeing on the River Nene see www.canoe2.co.uk