After the excitement of last year's Land Rover Experience Team Building day it was decided that a spot of walking in the picturesque Peak District would be jolly nice. This would be a first for new recruits Kevin and Charlie and Greg's last Jemmac hoorah prior to leaving for pastures new at Red Bull Racing.
Not in-keeping with previous years it was decided that one day of Team Building just wasn't quite enough and that an overnight stay was in order. The team set off on their travels up to Buxton from Jemmac HQ on the Tuesday morning where they were greeted by the staff at the Palace Hotel.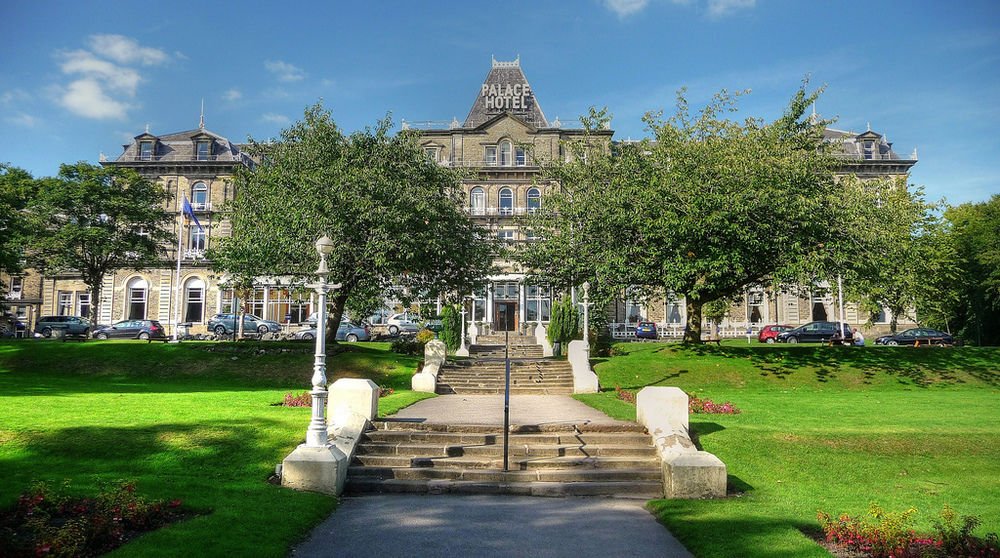 There was time to quickly settle into the hotel lounge with a good cup of tea before it was down to business with a working lunch while discussing important Company business at the Bi-Monthly meeting.
We were all duly presented with a T-shirt and hoodie from the new 'Jemmac clothing range' (not available on the high street) which we all donned before enjoying some interesting project presentations from company directors Mark and James.
This was followed by a brilliant 'Show and Tell' session from Matt who enlightened us on the benefits of open water swimming and why we should all do a bit more of it!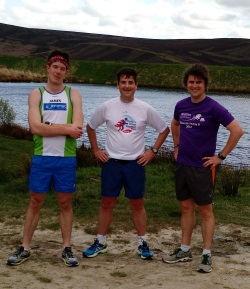 Before we knew it the work was done and it was down to some highly focused team building time. The plan was to meet for dinner in the evening, so we were left at our leisure to enjoy some of the delights of Buxton while Directors Mark, James W, Matt and Graeme talked more business at the Company Board Meeting.
The ladies (Sally, Lynne, Lauren and Katherine) and Ali C decided that making good use of the hotel spa was in order so it was a dip in the hotel pool and a relax in the sauna and steam room.
Some of the boys (Greg, James C, James S and Al H) – being superior athletes – decided to take the opportunity to do a bit of off piste running and took a short car journey to Errwood Reservoir North West of Buxton, parked at the top of the hill, ran down to the reservoir, round the reservoir and then back up the hill to the car, covering 6 miles and 200m of climbing!
Feeling fully refreshed and with empty bellies after the afternoons activities it was time for dinner. Organiser-extraordinaire Sally had booked us a table at St Moritz, Buxton.
We all set off from the hotel with sat-navs prepped ready for a 10 minute walk to the restaurant only to get to the end of the hotel grounds to find it straight in front of us! We enjoyed some delicious Italian food (and wine) and Greg experienced his first 'Chocolate Calzone'.
With hunger abated it was off to a nearby watering hole to quench our thirst where some of Buxton's finest ales where sampled, and later to what James C informed us was Buxton's top nightclub, but actually turned out to be a local pub and the only place open late on a Tuesday night! Troopers as always we soldiered on and made the most it by sampling some more of Buxton's finest before finally admitting defeat and finding our way back to the sleeping hotel.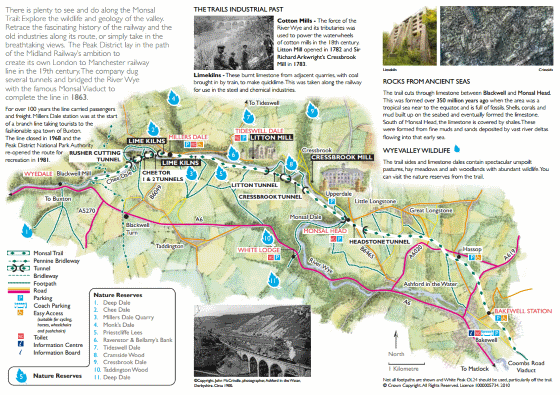 Bright and early the next morning (too early for some, ahem Matt) we went down to the hotel conservatory and enjoyed a delicious Full English to set us up for our long walk and shared some of the highlights of the night before. Before we knew it we were checked out of the hotel and parked up in at Monsal Head eager to start of our expedition.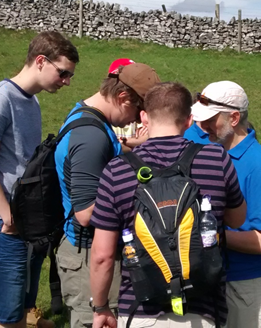 The scenery was beautiful from our vantage point looking down into the peaceful valley and Sally had even organised for it to be a gloriously sunny day, so with maps in hand and smiles on our faces we tried to navigate our way out of the car park. As it turned out this was quite the task but after some deliberation we set off on our walk with chief navigators James S, Matt and James W in what we thought was the right direction.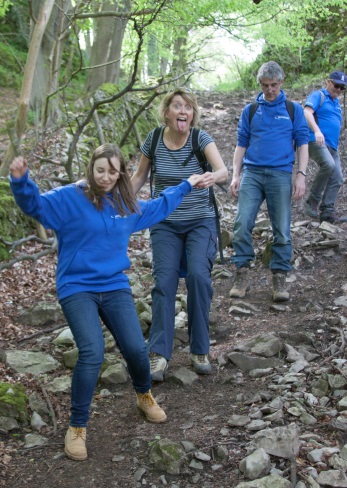 After a few miles ambling along on the fairly flat paths we were stopped in our tracks by a mighty hill. It being quite warm by this time it was quite a slog to the top but we all made it incident free and were rewarded for our efforts with Jelly Babies to keep our strength up.
We continued with our walk with many commenting on how quiet it was so high up, but before long it became apparent that we had at some point taken a wrong turn and now faced the prospect of traversing our way back down the hill of pain.
Some managed this very adeptly and skipped all the way to bottom in no time. For others this was a treacherous experience and team work was necessary – well we were team building!
A reassessment of the route was made and we once again set off on our merry way. Now back on the right track we tore up hills, through farmland and down lanes making short work of both the miles whilst consuming copious amounts of aforementioned Jelly Babies!
However, our detours had taken valuable time so having reached the notional half way point of the village of Taddington (not actually named after 'founding Jemmac customer' Thomas Arnold Dixon!).
So an executive decision was made to 'cut the corner' and head for a late lunch. The resulting cross country hike turned out to be the highlight of the walk affording glorious views aplenty.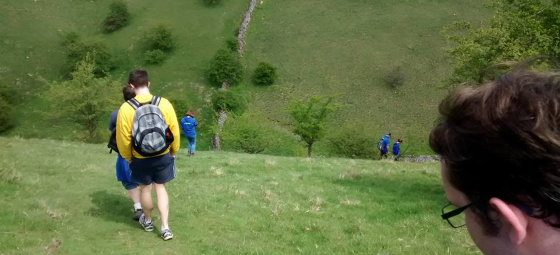 Being a Wednesday there were few people out walking so we selfishly had all of the stunning countryside to ourselves and the second half of the walk saw us through farms, tunnels, and a field full of excited cows just let out for the summer!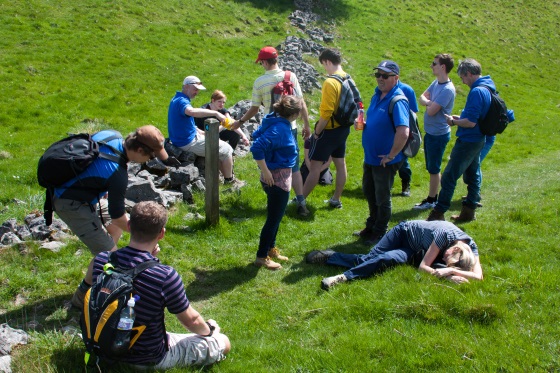 We finally arrived back at our starting point at Monsal Head at 2:30pm, timed to perfection for a late lunch at the Packhorse Inn in Little Longstone where everyone enjoyed a promptly served lunch! All bar one poor soul … who had to wait a little longer than expected for his (admittedly excellent) Buffalo Burger!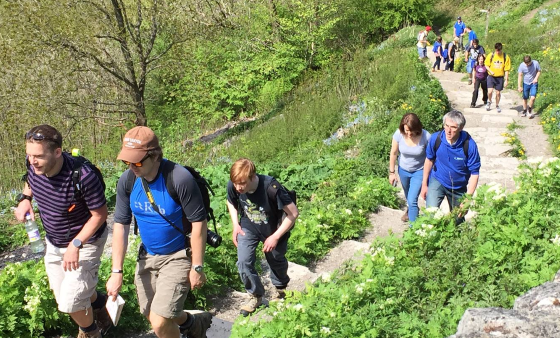 With the team well and truly 'bonded' the trip was declared a great success as the frivolities reached their conclusion, and so it was back to the cars for the sleepy journey home.
Kath
Quotes from the day:
Ali : "The team building day was awesome – great food, lots of drink and an excellent walk – even if there were some unplanned detours!!!"
Kevin : "The Team Building was a great couple of days – Good food, great company and a nice walk. Couldn't ask for more!"
James C : "I had the most fun! The weather was perfect for walking, sunny, but not too hot. The length of the walk meant there was a lot of chance to speak with everyone but we weren't too tired out, a great day for team building!"
Al : "Yet again I think we have proven ourselves to be up to whatever challenges mother nature (and dodgy map reading) can throw our way! A great two days away from the hustle and bustle of Jemmac central during which I got to talk to everyone in the company, something that's surprisingly difficult to do when in the office!"
James W : "We packed a lot into a couple of days away from the office and as per usual, Sally's organisation was perfection personified!"