September 2016, and the Jemmac road show hit the highways and byways of the UK for the second year in succession. Following on from last year's expedition to Buxton, we this year targeted another spa town – Bath. The Somerset town, once home to Jane Austen and famous for it's Roman Baths was to be honorary Jemmac HQ for two days. Needless to say, the locals were thrilled and lined the streets to welcome us to their humble town.
The Jemmac convoy rolled into town at 10.30am having wound its way round various country roads between the East Midlands and the West Country, suffering only minor delays on the A34 round Oxford. With the UK basking in it's warmest September for years, everyone arrived in good spirits ready to sample all that Bath has to offer.

On arrival at the Macdonald Bath Spa Hotel refreshments were served and the latest Jemmac attire (some rather natty soft shell jackets) distributed to one and all. Ideal for those days when the office air conditioning is being far too efficient. If that day ever arrives, we'll be well prepared!
There have been a number of personnel changes since last year's outing meaning that the event took on a very important role of 'Team Building' as well as the more traditional 'Information sharing'. Welcome to Craig, Hayden and Sarah, and an honourary welcome back to new mum Kath who was having her first extended period away from young Henry – who was in the more than capable hands of dad James (Editor: yes, yet another James!).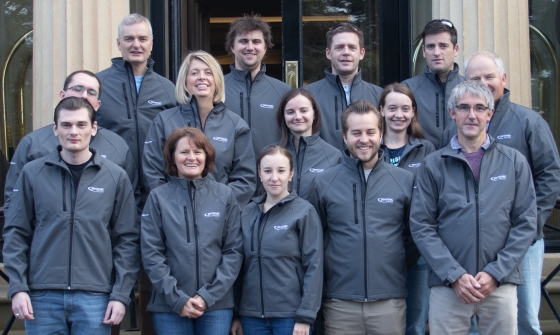 As far as we know, both survived the test, no doubt giving Kath ideas of seeking more freedom in the coming months. James has presumably also banked a good number of brownie points – as well as spending some quality time with his boy, of course!
First order of business was the bi-monthly meeting. Every two months we all get together over a cup of tea (Editor: or coffee!) and a bacon sandwich to update everyone on what has being going on in the company. Even with a small company, it can be difficult to know what's going on in the rest of the office when everyone's in their own little bubble.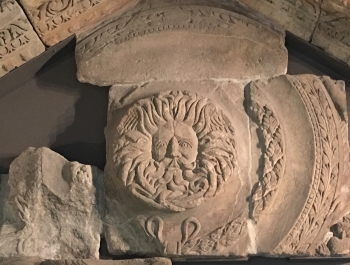 September's show and tell was courtesy of Craig Baranyai – the first of the new crop of Jemmacers to be given the honour of presenting on a subject close to his heart. Turns out Craig is a bit of a whiz at investing on currency exchanges and proceeded to tell us all about long positions, selling short, liquidity margins and spread. Not all went to plan, however, as when Craig went to perform a demo of one of his trading algorithms his computer's Critical Need Sensor kicked in and proceeded to install Windows updates! Happily this presented a natural opportunity to partake of the buffet lunch.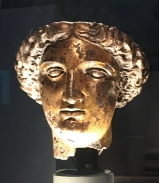 There was considerable concern that we appeared to have crossed the Atlantic when the promised 'chips' to go with the sandwiches turned out to be of the thin, crispy, and foil wrapped variety. At least there weren't any salt and vinegar ones – every cloud…
Following conclusion of the meeting, we all headed into Bath for a tour of the town's famous Roman Baths. I must admit, I was sceptical about how interesting a tour of a very old hole in the ground filled with green water was likely to be. Happily I was wrong, our guide was very engaging and informative and provided a fascinating insight into Aquae Sullis (the Latin name for the town – I was paying attention!). (Editor:Clearly not that closely – there's only one 'l' in Sulis!)
The Romans really were rather good at engineering and seemed to enjoy their social bathing, maybe something we should embrace more in modern life. A few brave souls sampled the waters, believing that they would gain a fraction of the wisdom that the more senior Jemmac members have accrued over the years – if only it were that easy!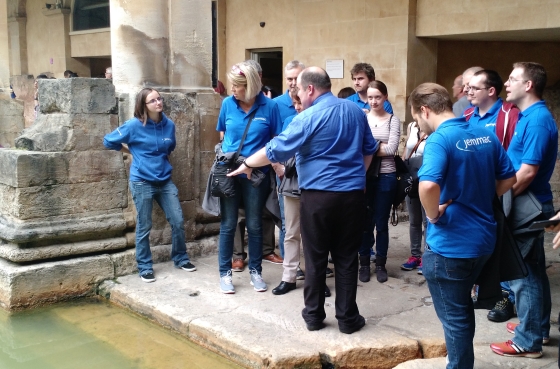 We then seamlessly segued from 1st century bathing and hygiene to 21st century communication techniques as a number of Jemmacers were introduced to the delights of WhatsApp – apparently texting is no longer the method of choice for letting people know where you are!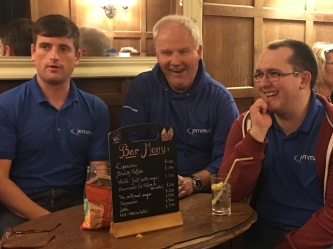 A small advanced party then set about finding a suitable venue for some pre-dinner drinks. A lovely, intimate spot was found, with some eclectic locals (think that's what the website would probably say, if there as one) where we partook of a number of rather good ales (it was a CAMRA pub, after all). Kath, having been off the wagon for some months, showed remarkable self restraint and common sense and eased herself gently back in with some smaller measures. Some of us, on the other hand, took the approach of "get it while you can" and tackled the situation with a certain gusto.
All too soon 7pm rolled around and we had to adjourn to our dinner location – much to the local's relief I suspect. As is often the case with these events, the end of dinner proved to be a watershed. For a number of people, self preservation kicked in and after one more round in a local hostelry they decided to head back to the McDonald Spa Hotel and actually enjoy the rather nice rooms that we had been provided with.
Others, however, decided there was more exploring to be done and headed out into the night – a Gin bar had been spotted on the way to the restaurant, so we made a bee-line for that. I'm quite partial to a good G&T and was taken aback by the sheer number of different variety of gins in this place.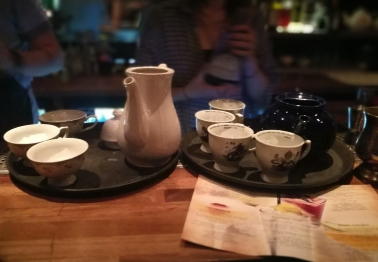 Asking us to choose just one or two seemed like an almost impossible task, so we settled on the tried and trusted technique of asking the barman what he recommended! There followed a very pleasant couple of hours where we poured gin from teapots into our little china cups like some kind of late night teddy bear's picnic.
Following last orders in the gin bar, there ensued much walking around as we tried to locate the nirvana of a nice little pub open late, with no queue to get in where we could all carry on the evening's merriment. Despite asking the leaders of the many Freshers' pub crawls that were snaking through the city, we failed to locate such a place. We did, however, find an actual Olympic swimmer, so all was not lost – I am fairly sure the crop top was not part of the Rio uniforms. We admitted defeat and headed back to hotel, guided by Lauren who seemed to miraculously know the way (or at least she had the common sense to ask Google the way).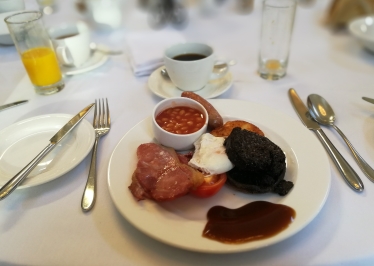 Wednesday morning dawned crystal clear – it was a beautiful morning, perfect for the customary walk in the country. Once we'd all taken on board enough fuel for the coming miles we gather out the front of the hotel for a quick team photo before setting off on a slightly modified version of the Bath Skyline walk.
We started out with some fairly steep climbs and soon got to a good height above the city which afforded us some splendid views. Having done most of the climbing Kevin at this point decided that just walking up all these hills wasn't enough of a challenge and decided to lose one of the arms from his glasses. Thankfully, he's longsighted so was at least able to see where we was going for the remainder of the walk. Driving home later was a different matter, though. Rumour has it Kevin had to do a very good impression of a monacled member of the gentry and he wound his way round the MK roundabouts.
Following a lunch stop at a local hostelry (where, in contrast to the night before, OJ and lemonade was very much the order of the day) we headed along the canal (no hills – yay!) back to the hotel to pick up the cars and head back to the Midlands.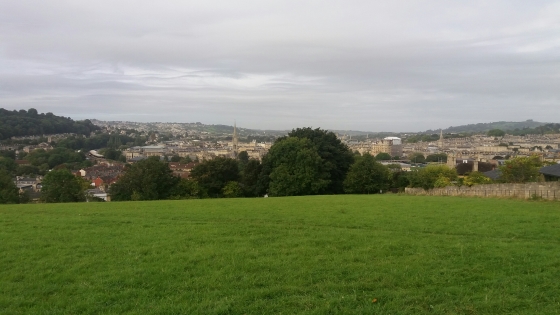 And so another Jemmac Away Day was brought to a close, once again a very successful outing – we even returned with the same number of people we set out with! Thanks once again to Sally and James W for organising, meaning the rest of us just had to turn up and follow orders!
Al
Quotes from the day:
James S : "Another great team building day! Just hope the latest additions to the Jemmac team aren't put off now they know who they are working with a little better!"
Hayden : "A brilliant first team building day. Hats off to Sally for organising and I can't wait till next year!"
Craig : "It was a really enjoyable trip with lots of great food in a superb area, despite my questionable choice of footwear I still managed to get to the bottom of the hills feet first so all in all a very successful endeavour, I look forward to the next."
Kevin : "The Roman baths were interesting, the walk was good fun even if it did cost me the arm from my glasses! All in all a very enjoyable couple of days".