OPCFailover is a simple and effective way of increasing the availability of data to your business benefiting OPC Client applications. OPCFailover delivers redundancy without proxy servers, avoiding the complexities they incur.
As a testament to the robustness and reliability of the product it's been nearly two years since we released OPCFailover V2-0. Today we're proud to announce the release of OPCFailover V2-1. This version brings support for Microsoft's latest operating systems as well as support for OPC redundancy for those OPC components hosted in workgroup nodes and nodes in untrusted domains.
What's new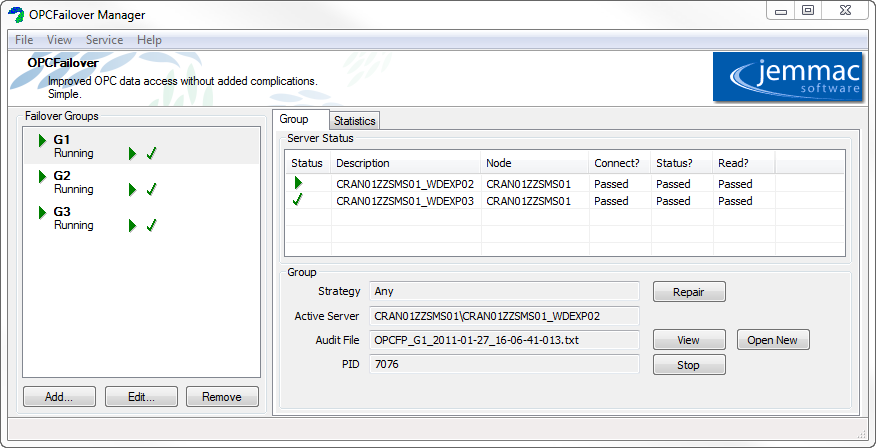 Improved support for working with inaccessible nodes such as workgroup nodes or nodes in remote, untrusted domains
Added support for Windows 7 and 2008 inclusive of all 32 and 64 bit variants
Added support for a deadband time before a failover begins
Added spawning command on event detection, including inbuilt support for email notifications
Added support for OPC DA3 Servers
Minor fix to better support Windows 2000
The following sections provide some details of the new features.
Support for inaccessible nodes
OPCFailover has simplified the way in which it can provide OPC redundancy to OPCClients and OPCServers that reside on nodes that have limited or no visibility of each other (generally due to security configurations). Two common configurations that are now easily supported include:
The OPCClient is running on a domain node whilst the two target OPCServers are running on their own workgroup nodes.
The OPCClient is running on a domain node whilst the two target OPCServers are running on their own nodes in domain that is not trusted by the OPCClient host domain *.
* This demonstrates that it is possible to use OPC DA to read and write data across untrusted domain boundaries without tunnelling or any compromise of Windows Security (the OPCClient is still in direct communication to the OPCServer across this untrusted domain boundary). Jemmac are one of the few vendors that write OPCClients with this capability built-in.
Deadband time before failover
It's now possible to configure a deadband time window that needs to elapse before OPCFailover will look for an alternate OPCServer when it detects the primary OPCServer has failed. During this deadband time window OPCFailover attempts to re-establish connectivity to the previous primary OPCServer. This is useful for situations where you simply want to bounce an OPCServer and not have the connected OPCClients connect to an alternate OPCServer. This feature was implemented in V1-7 but removed in V2-0.
Spawning commands on event detection
It is now possible to have OPCFailover execute a command when the primary OPCServer is seen to fail and/or when a success failover occurs. A new built-in use of this capability is the provision is made to configure an email that will be sent under these conditions.
Summary
We are very confident that OPCFailover V2-1 builds upon the stability and robustness of V2-0 whilst providing support for Microsoft's newest Operating Systems. The added command execution and improved inaccessible node support allow OPCFailover to add even more business value in real life configurations.
You can download a trial version of OPCFailover and try all these features out for yourself.For more information, contact:
Mark Fisher
OPCFailover Product Manager
Jemmac Software Limited.
Tel : 01234 757251
Email : mark.fisher@jemmac.com
For more details about OPCFailover, see the Product page for it.