OPCFailover is a simple and effective way of increasing the availability of data to your business benefiting OPC Client applications. OPCFailover delivers redundancy without proxy servers, avoiding the complexities they incur.
With the user community enjoying a robust and dependable product it's been nearly two years since we released OPCFailover V2-1. Today we're proud to announce the release of OPCFailover V2-2. This version bring several minor functional enhancements and usabilty improvements, all of which were implemeted as a result of user feedback. We havn't included any bug fixes in this release because there were no bugs reported.
What's new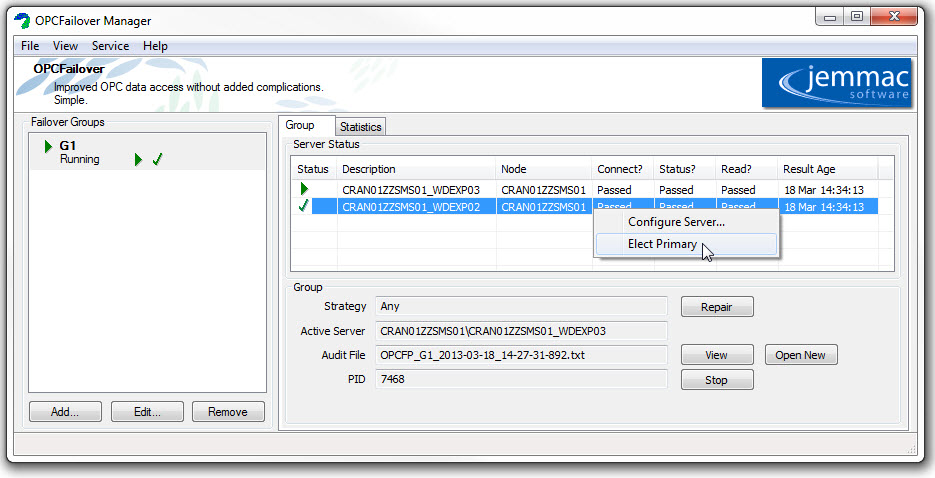 OPC Category Control.
Elect Primary.
Improved node browsing.
Various improvements to user interface
Audit messages overhaul.
The following sections provide some details of the new features.
OPC Category Control
It is now possible to control the OPCFailover Group's capabilities as it is advertised to servers. This can be used to change what is announced as the supported OPC interfaces that the underlying servers actually support. For example, allowing an OPC DA Server at version 3 to work with OPC DA Clients that are of version 2 but the server developer neglected to allow it to be shown as version 2 compatible.
Elect Primary
It's now possible to use the OPCFailover Manager user interface to set the primary OPCFailover in a failover group. The OPCFailover Manager it is now possible to set the primary OPC Server in a failover group. This means that you are now able to electively change the wiring of what is said to be the primary OPC Server. This is very useful when proving the OPCFailover group configuration or if you wish to manually override the behaviour of OPCFailover. Note that this will only take effect for OPC Clients that make a new connection or the current connection fails.
Improved node browsing
The improved node browsing allows you to skip the browse step all together and specifically name (machine name or IP address) a specific node on which to find the required OPC Server. This is useful in workgroup environments or when some router configurations may not allow traditional browsing. Note, if a node still cannot be configured, in this manner, then a registry file will be produced that can be run on the OPC Server node.
Improvements to the user interface
We've taken on board several comments relating to the usability of the user interface. Whislt all these changes are minor they do demonstrate our desire to make the user interface as easy to use and informative as possible.
Show previous primary server when new primary selected but was no error (ordered mode / elect primary)
Add useful tooltips to all controls, e.g., audit flags, tests, strategies, etc.
Improvements to auditing
It's not often anyone needs to look at the product audit files. When you do have a look you'll now find that the audit messages are even more helpful and provide a new level of understanding of the way OPCFailover is working. This can be used by customers to investigate what OPCFailover is doing and it can be used to Jemmac support to provde that extra level of diagnostics.
Summary
We are very confident that OPCFailover V2-2 builds upon the stability and robustness of previous versions whilst adding that bit extra in terms of clarity and usability. You can download a trial version of OPCFailover and try all these features out for yourself.
For more information, contact:
Mark Fisher
OPCFailover Product Manager
Jemmac Software Limited.
Tel : 01234 757251
Email : mark.fisher@jemmac.com
For more details about OPCFailover, see the Product page for it.